The RV Road Trip Blog - April 2010
59 more days from today before we head out. Time is certainly flying by! Cynthia is hard at work preparing for the grand finale yard sale and Jerry is making sure everything in and on the camper is taken care. Oh that reminds me, if anyone wants to buy Cynthia's 2007 Honda Fit for $9000, let us know.
The little comment boxes at the bottom of each page are meant for our visitors to leave comments about the site. However, it seems some perverts out there think it is a place to post links to sex sites. The filter we have implemented catches 99.9% of their attempts so you never see them, but every now and then one gets through. We apologize to you if you ever see one and rest assured that as soon as we see it, the IP gets banned and the offending entry is removed.
For those that didn't know, on or about the first of each month we archive the previous month's blog entries as well as any comments received that month. At the bottom of this page, and also in the menu on the right, is a link to the blog archives. We also update our
expense summary
in case you wondered what we spend our fortune on each month (heh).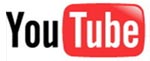 We decided it was time to start making some videos. We have a little
Kodak
camcorder and felt it was time to put it to good use. We are complete newbies when it comes to making and editing videos so please keep the snickers and jokes to a bare minimum. :) So far we have made one video but have plans to make many more. In the menu on the right, we added a link to the new video gallery. Head on over and check it out and if you have time, please visit our YouTube channel so you can rate the videos.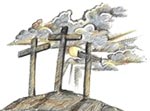 Happy Easter everyone! Today is the day we celebrate the resurrection of Jesus Christ! It is also our son Robby's 18th birthday! He can now sign up for the selective service, register to vote, have his Jeep put in his own name and open a bank account on his own in every state but Alabama. Other than that, it's not much different than being 17. :) Anyway, Happy Birthday Robby!
This weekend we have been going through a lot of our clothes deciding what will fit in the camper and what gets donated. Cynthia has about 5 times more clothes and shoes than Jerry but what does she do...? She spends the day going through MY stuff saying "you aren't going to keep this, are you?". She has more fun throwing out my stuff yet her collection hasn't been touched. And when she does try to go through her things, she has to hold up each item and explain where it came from and the whole story behind it. After an hour she managed to move 5 items from the closet to the bed. These 5 items were all coats! Now she starts explaining why she has to have all 5 coats in the camper. Then she asks if there is something of MINE I can take out of the camper to make room for her coats?! Boy is she in for a big surprise - LOL.
OK, we need to sell the big stuff that is left in the house before we hit the road. With the economy the way it is, we weren't sure if things will sell quickly or drag on unsold. We don't want to price the stuff so cheap that we don't make any money but we also want to price it fairly. So we decided to go ahead and put some things on Craigslist... our queen size 4 poster bed, a glider/recliner, an antique 1905 gentleman's dresser and a few other items. Well son of a gun... somebody bought our bed last night! That's good, but that's also kinda inconvenient - LOL. So we trekked out to the camper and got that nice new 8" memory foam mattress out of it and brought it in the house. Looks like we'll be sleeping on the floor for a few weeks. As you get older, it gets a little harder to get in and out of bed... it's even harder to get out of bed when it is even with the floor!
Oh boy. We've been kicking around the idea of selling our F150 SuperCrew and upgrading to an F250 or 2500HD truck so we'd have more power when in the mountains as well as more weight allowance in the bed of the truck. We went ahead and put the truck up for sale on Craigslist and danged if someone didn't buy it! The fella came out yesterday and gave it the once over and said he'd take it. We meet him Monday morning at 10:00am at his bank to hand over the title to them. Then we'll be without a truck until we find a new one.
Ideally, we'd like to find a 1999-2003 F250/350 with the 7.3L diesel engine but we are not opposed to a Dodge with a 5.9L diesel or a Chevrolet/GMC 2500HD/3500HD truck (gas or diesel). We're pretty familiar with the 7.3L trucks but not so much the others. So if any of you have some advice to give regarding trucks, we'll be happy to listen.
And do you realize how much editing on the web site I'll have to do once we get a new truck?! Oh well, it'll be fun!
Well, the F150 is gone. Delivered it this morning to the new owner at his bank. Tomorrow morning we will pick up a "new to us" 2003 Chevrolet 1500HD Crew Cab pickup truck. The 1500HD is essentially the same as the 2500 series truck with a few minor differences. We are very excited about the tremendous amount of towing capacity the 1500HD has as well as more cargo capacity. And yet another nice thing is... our scooters fit in the bed of the Chevy with the tailgate closed! We had to remove the tailgate on the F150 when we hauled the scooters.
I have updated the site to reflect the "new to us" tow vehicle. Click on
Rig Description
(it is also in the menu on the right) and you can read about the truck. Once I have the truck and camper connected, I will get a picture of that but I am not sure when that will be. It's pretty hectic around here selling off everything we own piece by piece. Ahh, but we are excited!
Wow, the Chevrolet truck is much easier to work on than the Ford. The spark plugs are actually visible on the Chevrolet without having to disassemble the top of the engine. And guess what? The rear differential has a drain plug! I didn't have to remove the cover just to change the fluid! However, since this truck is a 3/4 ton, it has many more lug nuts than the 1/2 ton Ford had, so it takes me longer to take a wheel off and put it back on. All in all, I'm pleased with the new truck.
The truck we got has 114,000 miles on it, not even the half-way mark for the 6.0L engine. Since it came from a dealer, there were no service records so it is time to do a little preventative maintenance. Today I changed the spark plugs and the fuel filter and I wanted to change the PCV valve but this engine doesn't have one that is serviceable. Yay, I saved $2. Everything else has already been done except for checking the wear on the brake pads. I'll do that another day when I am not so tired, lots of lug nuts on 3/4 ton trucks. And lastly, I really need a set of running boards on this truck. It's difficult for me to get in and out of it as it is. Dang running boards are $400 and we don't have the money to spend on that right now, so those will have to wait. Cynthia will just have to keep giving me a boost. :)
We've been getting lots of calls about the Honda Fit we are selling. Of course, everyone wants a Honda car and a Kia price so we haven't sold it yet. Selling the car is the last worry we have, everything else falls into the "it doesn't really matter" category. Anyone need a 2007 Honda Fit for $8500?
Cynthia leaves today to go on a 3 day trip to Woodstock, Georgia to attend a Beth Moore Women's Conference. I will be alone for 3 days and I have to figure out what to do with myself. You get so used to having someone around and it is pretty bad when they are not there. Let see... I need a haircut, I need to install the running boards on the truck, and I suppose I can wash the truck. OK, that takes care of Friday. It is supposed to storm on Saturday so I'll be stuck inside... I guess that will be computer day. Sunday will be good as I will have Sunday School then I get to teach Children's Church. After that I get to go pick up Cynthia around 4:00 or so! I think I just might make it through the weekend. :)
The forecast for tomorrow calls for a high probability of hail so I decided to go ahead and tilt my solar panels up so they would not take direct hits. I tilted up one panel then maneuvered to the other side of the camper and
tried
to tilt the other one. However, there isn't quite enough slack in the cables between the panels to allow both of them to tilt in the same direction at the same time! I really didn't have much choice as to how far apart I mounted the panels as there is a vent between them so even if I had noticed this before I secured them, there is nothing I could have done anyway. They will both tilt up at the same time towards each other but not in the same direction. So when winter time rolls around and I need to tilt them for better angle, I reckon I will only get to tilt one. I better get online and look for a short MC4 cable so I can tilt them both properly. I like things to function as intended!
Yay! We sold Cynthia's car yesterday! That was our last concern because the car wasn't completely paid off yet... but it is no longer a worry. Now to see how much of the ad valorem tax I can get back from the tags I just renewed - LOL. A young lady came by to look at the car and she had her husband on the phone from Afghanistan so he could ask me questions about the car. As a veteran myself, I understand the sacrifice and commitment our soldiers make for this country so I was very happy to see this couple get the car. I even sold it for a little less than I had planned as I know that soldiers do not get paid nearly enough for the job they do.
I found a set of running boards for the truck and installed them. It is now so much easier for me to get in and out of the truck. I ordered them online and paid $259 and that included the running boards, mounting brackets and shipping. That's about $195 less than I could find for the same product locally. I also removed that craptacular drop in bed liner that was in the truck and replaced it with a rubber bed mat. I can't be slip sliding around when loading and unloading the scooters!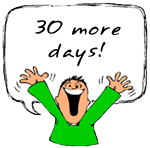 Today is the last day of the month. Next month we head out for good. It's getting really close to launch day and we are getting even more excited. 30 more days! Weather permitting, the grand finale yard sale will be next weekend so we'll be spending this week preparing for that. All the big things have been taken care of so only a million little things remain.
We'll load up the camper this week so everything that won't be sold, given away or thrown away will be safely in the camper. Once we get it loaded we'll take it to the CAT scale to have the truck and camper weighed. This way we'll know if we need to make any loading adjustments. We also need to set up the Equalizer hitch to match the new truck but we can't do that until we can get to a nice level spot.
The expense summary has been updated for the month. Had some changes as we switched insurance companies on everything and upgraded to full-timers insurance. You can find the expense summary in the menu. That's it for today I guess, off to get a haircut...
RV Blog Archives
2017
JAN
,
FEB
,
MAR
Please visit
TabernacleFarm.com
2016
JAN
,
FEB
,
MAR
,
APR
,
MAY
,
JUN
,
JUL
,
AUG
,
SEP
,
OCT
,
NOV
,
DEC
2015
JUL
,
AUG
,
SEP
,
OCT
,
NOV
,
DEC
2014 We did our massive 22 state and 15 national park
road trip
.
2013 We dealt with Jerry's wreck and thyroid cancer treatment.
2012
JAN
,
FEB
,
MAR
,
APR
We stopped full-timing in April 2012.
2011
JAN
,
FEB
,
MAR
,
APR
,
MAY
,
JUN
,
JUL
,
AUG
,
SEP
,
OCT
,
NOV
,
DEC
2010
JAN
,
FEB
,
MAR
,
APR
,
MAY
,
JUN
,
JUL
,
AUG
,
SEP
,
OCT
,
NOV
,
DEC
2009
JAN
,
FEB
,
MAR
,
APR
,
MAY
,
JUN
,
JUL
,
AUG
,
SEP
,
OCT
,
NOV
,
DEC
2008
The Beginning
New comments have been disabled due to spammers.