The RV Road Trip Blog - September 2009

Well, we wanted to head out camping for the Labor Day weekend but the new solar power system we ordered as well as the new electric tongue jack are due to arrive Thursday or Friday... so I need to be at home. If the weather permits, I guess I'll start the solar installation after I drop in the new tongue jack. I am excited!
We're trying to pick a spot to go so we can see the leaves on the trees in their full fall glory but it's a hard decision. Cheaha State Park? Little River Canyon? Pine Mountain, Georgia? Arrggghhh.... :)
The new jack came in today, a
Barker VIP 3500
, and I had it installed in under 15 minutes. Removed 3 bolts and took out the manual jack and dropped the new electric one in its place. Put the 3 bolts back in and attached the hot wire to the battery and it was done. Ahh, the good life. LOL. The 2 solar panels and the charge controller are due in tomorrow but some wiring, the remote display and the temp sensor won't be in until next week. This is going to be a big task installing all of this; I can hardly wait to start!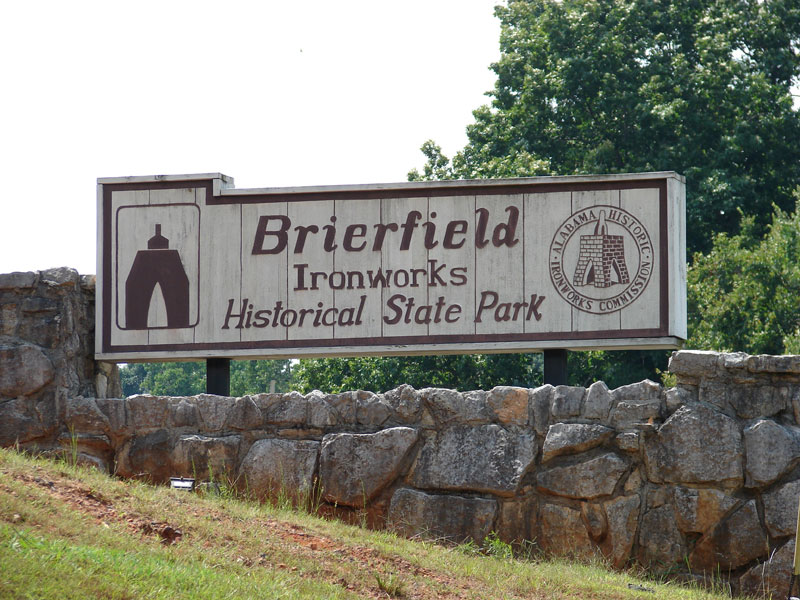 Cynthia and I visited Brierfield Ironworks Historical State Park this weekend. The furnace here was built by the Bibb County Iron Company in 1862. The furnace produced the toughest and most suitable iron for making guns above any other iron in the South according to the builders. The furnace went out for good in 1894 and not much of it is left, but the park is much more than the old furnace. You can read more about the park at
http://www.brierfieldironworks.com
.
They have quite a few spots for RVs, a nice pool, an archery range, a general store and cabin rentals. There's also a woodworking shop that has some very neat items in it. Since it was Labor Day weekend when we were here, it was quite busy. Lots of campers, people playing horseshoes, croquet and various other games. There are no full hookup sites but they do have a dump station. Most sites have water and electricity and they have a number of boondocking sites, no hookups at all.
There's not a lot to do outside of the park but there is enough to do at the park to satisfy a weekend of fun. The nearest town is Montevallo and they have anything you might need in case you forgot to pack something. We took a lot of pictures to show how nice the park is and you can view them by
clicking here
.
We've been busy getting the camper ready for full-timing, getting solar panels installed; making sure it is ready for winter, etc. It's a lot to do and since it has rained so much this month, it seems to be taking forever. That's OK, we're excited about every little thing we do. There's a new link about the solar installation in the RVer's Library, it's a lot to read but hopefully it will be useful to someone else considering solar.
An update on our son, Robby. He has decided to attend the University of Alabama instead of Auburn to study chemical engineering. Two things influenced his decision, Alabama sent him acceptance letters almost immediately and we have yet to hear from Auburn. The other is the proximity of Tuscaloosa to family. Either school is a good choice, but the prompt acceptance by the University of Alabama and the U of A School of Engineering made a huge difference. Now begins all the filing of paperwork for grants, scholarships, etc.
We received word from the University of Alabama that Robby has been awarded a Presidential Scholarship! This is worth the value of 4 years tuition! Even if tuition goes up, the scholarship will adjust so that it pays for his tuition 100%! We are so proud of Robby and we thank the Lord for all he does for our family.
Now that it
finally
quit raining, I was able to get to work on the solar installation again. The dadgum panel mounts still aren't in but they are expected in 2 days. In any case, I wired up the inverter, charge controller and the remote display so all that is functional. The only downside is that without solar panels, no charging takes place - LOL. Oh well, they'll be in soon enough and then I get to drill holes in the roof of the camper! Yippee. Not. - If you click the solar link in the RVer's Library, you can read up on all that I have done so far.
RV Blog Archives
2017
JAN
,
FEB
,
MAR
Please visit
TabernacleFarm.com
2016
JAN
,
FEB
,
MAR
,
APR
,
MAY
,
JUN
,
JUL
,
AUG
,
SEP
,
OCT
,
NOV
,
DEC
2015
JUL
,
AUG
,
SEP
,
OCT
,
NOV
,
DEC
2014 We did our massive 22 state and 15 national park
road trip
.
2013 We dealt with Jerry's wreck and thyroid cancer treatment.
2012
JAN
,
FEB
,
MAR
,
APR
We stopped full-timing in April 2012.
2011
JAN
,
FEB
,
MAR
,
APR
,
MAY
,
JUN
,
JUL
,
AUG
,
SEP
,
OCT
,
NOV
,
DEC
2010
JAN
,
FEB
,
MAR
,
APR
,
MAY
,
JUN
,
JUL
,
AUG
,
SEP
,
OCT
,
NOV
,
DEC
2009
JAN
,
FEB
,
MAR
,
APR
,
MAY
,
JUN
,
JUL
,
AUG
,
SEP
,
OCT
,
NOV
,
DEC
2008
The Beginning
New comments have been disabled due to spammers.