The RV Road Trip Blog - June 2009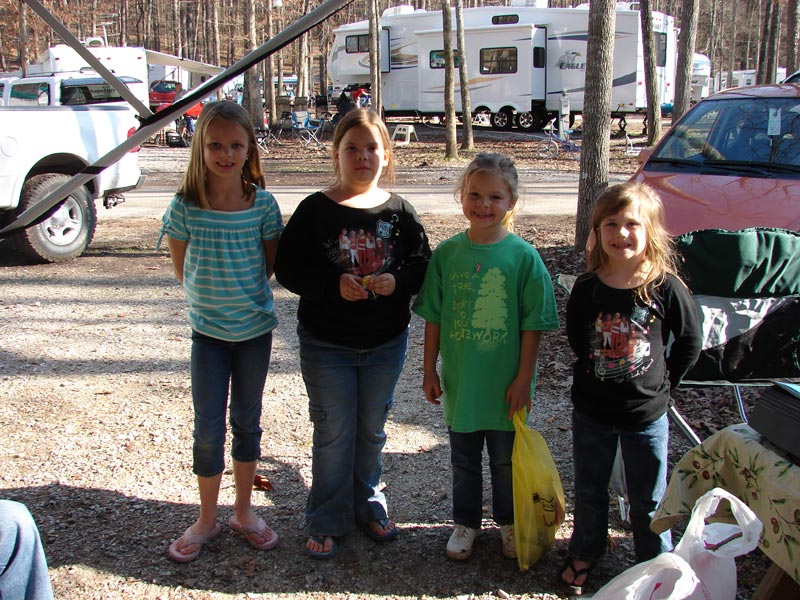 We are back from our most recent trip to Tannehill State Park and we had a great time! We held another scavenger hunt, it was a lot of fun. Everyone likes to participate in that. We even do it ourselves sometimes - LOL. If you ever see us in a park, just ask us for a game sheet.
Cynthia got the camera so there will be pictures of ducks and squirrels and who knows what else, but that's OK... she takes really good pictures. We are now looking forward to our next trip on June 25th which will be to Big Lagoon State Park in Pensacola, Florida. We made reservations this time - ha ha! Anyway, you can view of all of our pictures for Tannehill State Park by
clicking here
.

Today is the day we can see June 25th on the 10 day weather forecast - LOL. Uh oh, looks like rain, but we know it's hard to predict that far in advance. We're going no matter what, so if you're in the area... look us up at site #14.
The new propane tank cover arrived last night at 8:15 PM via FedEx. Either they are slow or they have a lot of deliveries to make. I installed it this morning and it looks good. Now the front of the camper is finished and it looks great! Check the
mods page
for a picture.
We changed cell phone carriers yesterday from Nextel to Verizon Wireless. Nextel was a good service but had limited coverage in a lot of the places we travel to, so we decided to switch. That fellow with the glasses always walks around saying "can you hear me now?" and everyone says they can. He says they have the best coverage, so we'll give him a shot. We selected the new enV Touch phone so we can now use voice, text, web, email and navigation from the phone. Dang, I remember when a phone was just a phone. With Nextel we only had voice and walkie-talkie so this is a big step for us. I have never sent a text message in my life so give me a while to figure out how to do it. [...] OK, I figured it out. I don't see the point of texting back and forth for 20 minutes when a voice call could say the same thing in under a minute. Maybe I'm just old-fashioned. Yeah, that's it.
Woohoo! We're headed to Big Lagoon State Park today! The camper and truck have been washed, the scooters are loaded in the truck and we're excited. Check in time is 3PM so we'll try to arrive around then (some campgrounds charge you half a day if you arrive too early).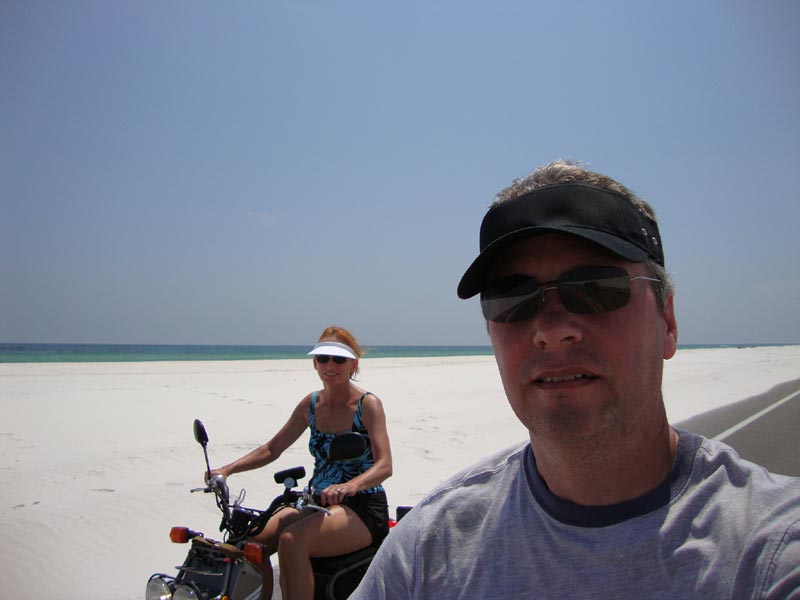 Whew! We're back from Pensacola safe and sound. We had a great time but we sure are tired, the sun really wore us out. The campground was nice, the sites were spaced a good bit apart so no way to really talk to your neighbors. It was so hot that not many people were walking around before sunset. Most visitors there seemed to stay 1 or 2 nights, with a handful that stayed as long or longer than we did. Lots of tent campers, I sure felt sorry for them in the heat.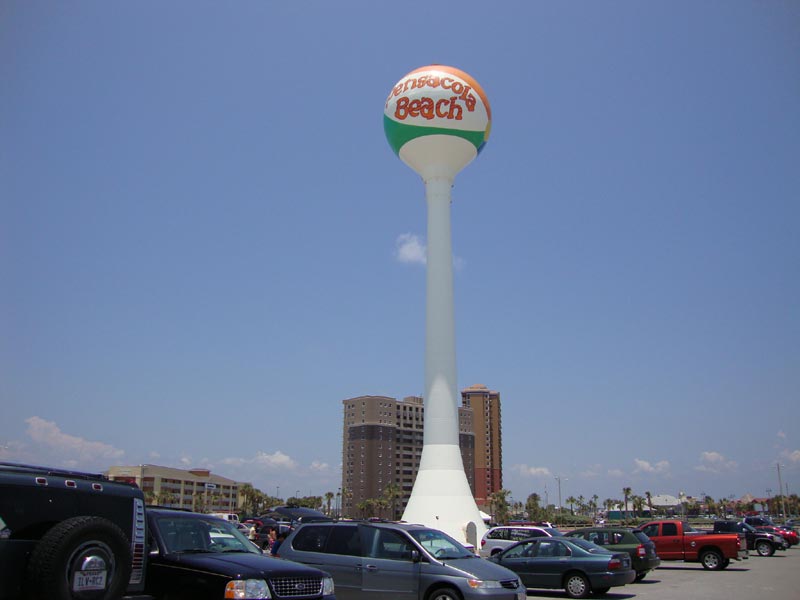 We took a good number of pictures; you'll enjoy them. It's been ages since I have been to the beach and it was fun, but now I won't need to go again for about 5 years. We really, really enjoyed the scooter rides we took along the Gulf Islands National Seashore. We rode from Pensacola Beach to Navarre Beach then from there all the way to Fort Pickens... it was beautiful. Makes me wonder how people can see the wonder of nature, the ocean, the wildlife, the sunrise and sunsets... and still say there is no God.
Now we'll start planning our next trip, we'll post that info once it is finalized. It will be somewhere a little closer so we can do a "Friday through Sunday" trip and travel time won't be so long. Oh yeah, you can view of all of our pictures for Big Lagoon State Park by
clicking here
.
RV Blog Archives
2017
JAN
,
FEB
,
MAR
Please visit
TabernacleFarm.com
2016
JAN
,
FEB
,
MAR
,
APR
,
MAY
,
JUN
,
JUL
,
AUG
,
SEP
,
OCT
,
NOV
,
DEC
2015
JUL
,
AUG
,
SEP
,
OCT
,
NOV
,
DEC
2014 We did our massive 22 state and 15 national park
road trip
.
2013 We dealt with Jerry's wreck and thyroid cancer treatment.
2012
JAN
,
FEB
,
MAR
,
APR
We stopped full-timing in April 2012.
2011
JAN
,
FEB
,
MAR
,
APR
,
MAY
,
JUN
,
JUL
,
AUG
,
SEP
,
OCT
,
NOV
,
DEC
2010
JAN
,
FEB
,
MAR
,
APR
,
MAY
,
JUN
,
JUL
,
AUG
,
SEP
,
OCT
,
NOV
,
DEC
2009
JAN
,
FEB
,
MAR
,
APR
,
MAY
,
JUN
,
JUL
,
AUG
,
SEP
,
OCT
,
NOV
,
DEC
2008
The Beginning
New comments have been disabled due to spammers.