The RV Road Trip Blog - January 2010
Happy New Year everyone
! We're snuggled up at home waiting for these below freezing temperatures to go back north where they belong. We keep thinking how nice it will be next winter when we are sitting in central Florida soaking up a little warm sunshine instead of shivering in the cold.
Ad revenue from visitors like you clicking on the Google ads is trickling in and we really appreciate it. Hopefully, the ad boxes aren't intrusive and the items displayed are of interest to you. When you're on a tight budget like we are, you have to do all you can so you can still chase your dreams. Our goal is to make enough to pay the annual web hosting and domain name costs for the site and we met that goal for 2009.
In case you haven't read the "Scooter Nation" section of our site, we ride 50cc scooters whenever we are camped. They are our toads - LOL. We need to find some padded laptop backpacks so we can hit the Wi-Fi hot spots since we won't have any other form of internet access. Anyone have any recommendations? Our
laptops
have 17" screens so they need to be able to fit.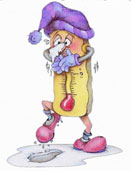 Oh my goodness! It is going to be 16°F in central Alabama tonight! Now we are really glad we ran the pink stuff through the camper a few weeks ago. We can't handle this cold weather very well, we like more temperate climates. At least this will be our very last winter in a place that gets this cold... central Florida, south Texas, Quartzsite, here we come!
We appreciate all the emails we get from our visitors and the comments in the new chat box. We love hearing from you and look forward to one day running into you at a campground somewhere warm!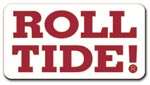 Alabama won the National Championship! I'm glad they won but I think the outcome might have been a little different had the Texas QB not been injured. It took Gilbert a little while to get his mojo going but all in all, he did a great job. Wonder how Nick Saban will spend his $400K bonus?
Groundhog Day is less than a month away but if things don't warm up, that rascal ain't gonna show his face until June. This is my worst winter in Alabama and I am so ready for warmer weather. 15° at night and a high of 24° during the day just isn't for me. I much prefer 70° at night and 84° in the daytime. Anyway, according to the counter on the home page, we have 142 more days until we go full-time. It won't get here soon enough! We will be chasing warmer weather...
Well, our plans to move into the camper on May 31st of this year may get moved up. The house we live in is owned by my stepdad and I have lived here since September of 2003. Mom died a little over a year ago so it has just been me, Cynthia and our son in this house and my stepdad in the house next door. Well, yesterday my stepdad comes over and says he is selling the whole place... lock, stock and barrel! Ugh, we need to stay at least until our son graduates from high school. As of this posting, it is 132 days until May 31st. Oh well, the good Lord has always looked out for us so I know He'll continue to do so. Whatever day we have to move out, this will be "Home Sweet Home".
With the news mentioned above, we have switched to high gear in getting rid of our remaining belongings. Looks like the yard sale will have to be sooner than later. We don't have a lot but it is still a pain. The biggest things we have to get rid of are the beds, a recliner, a small chest freezer and a washer and dryer. The rest is small stuff that hopefully we can sell or we'll end up donating it to a local charity.
We just aren't meant to have a heater in the camper!
The weather is finally back to normal for this part of the country. Highs in the 55-65° range with lows in the 32-40° range. Much more bearable than the teens we had for so long. And it's a good thing as the fan in the ProCat catalytic heater we bought a few weeks ago went on strike! We tried the Big Buddy before the ProCat and it worked great but was overkill. We bought a Wave 3 and we were sorely disappointed in it. Not sure if we got a bad one or what, but it didn't put out much heat at all. The ProCat at 3000 BTUs really felt good but the 3000 BTUs from the Wave 3 was hardly noticeable unless you sat right in front of it, even after 2 hours. So we sent the Wave back and are once again looking for a propane heater for the camper. Good thing we still have the furnace! We're about at wits end on this. Doesn't anyone make a quality product anymore?
We updated the blog section today so it could be read in order from top-to-bottom instead of bottom-to-top. We had a few requests for that so we looked at some other blogs that were ordered that way and it did seem easier, especially when reading the archives. We know we can't please everyone, but we do our best...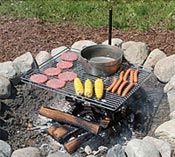 We added part 2 of our month long meal plan to the library today. It is another 2 weeks' worth of meals and the associated grocery list. We'll post the price once we have been to the store. You can find Part 1 and Part 2 in the left menu under Meal Planning. Keep in mind it is just a guideline and certainly not meant for everyone. It does give full-timers (and some part-timers) a general idea of how you can eat well on a limited budget. Food is one of our biggest expenses, but with a little planning we keep it under control.
The nice folks at Vornado sent us a v103 Under Cabinet Air Circulator (aka, a fan) to review. It arrived today so as soon as we get a chance we'll get it installed and post our review.
Todays' been a busy day, we've gotten quite a few emails from visitors to the site. Don't worry, we like it! We're just glad to be able to offer the information we do through the site as well as the "goings on" about our journey to full-time status.
Well, we got the Vornado installed. That thing is pretty neat. We wished we would have known about it before we installed that silly 12v automotive fan in the camper. We yanked that old thing out and the new Vornado is doing the job! You can read our review of it by
clicking here
.
RV Blog Archives
2017
JAN
,
FEB
,
MAR
Please visit
TabernacleFarm.com
2016
JAN
,
FEB
,
MAR
,
APR
,
MAY
,
JUN
,
JUL
,
AUG
,
SEP
,
OCT
,
NOV
,
DEC
2015
JUL
,
AUG
,
SEP
,
OCT
,
NOV
,
DEC
2014 We did our massive 22 state and 15 national park
road trip
.
2013 We dealt with Jerry's wreck and thyroid cancer treatment.
2012
JAN
,
FEB
,
MAR
,
APR
We stopped full-timing in April 2012.
2011
JAN
,
FEB
,
MAR
,
APR
,
MAY
,
JUN
,
JUL
,
AUG
,
SEP
,
OCT
,
NOV
,
DEC
2010
JAN
,
FEB
,
MAR
,
APR
,
MAY
,
JUN
,
JUL
,
AUG
,
SEP
,
OCT
,
NOV
,
DEC
2009
JAN
,
FEB
,
MAR
,
APR
,
MAY
,
JUN
,
JUL
,
AUG
,
SEP
,
OCT
,
NOV
,
DEC
2008
The Beginning
New comments have been disabled due to spammers.