The RV Road Trip Blog - December 2009
Just 6 more months until we go full-time, it sure seems as if the time is flying by. Hopefully, the other chair for the camper will arrive today and I can get them set up and pictures posted. The rain has slacked off but it is still fairly cold so I will run the heater in the camper while I am out there. Gotta keep my bones warm!
Got the new chairs in the camper today and they sure are nice. UPS brought the 2nd chair yesterday and the bell glides (little feet) came today. Everything is assembled and now we can really relax when sitting in the camper!
Cynthia sings in our church choir and they've been practicing really hard for the Christmas Cantata. I can sing but people always ask me not to - LOL. At least when I sing in the camper shower, it's always a real short song. 6 gallons of hot water doesn't last very long. I guess I could just not turn the water on and sing for as long as I liked. Nah, I better not.
Yesterday I was out checking to see how much propane I had left in my tanks. I removed the propane tank cover and smelled a slight propane odor, so I started to look for the source. I used my nose to sniff around to see if I could pinpoint it that way. The regulator checked out fine as it should, it is less than a year old. The Marshall hoses that connect the tanks to the regulator turned out to be the source of the odor. The swivel joints on the hoses were leaking ever so slightly, enough to make bubbles when spit was applied. I know, I know.... some of you will go get the dish soap to put on there but you forget I am crippled, and it's a chore to go back into the house to get it. And a little slobber does the job just as well - LOL.
The hoses should only be about 2 years old at most since the camper was built in 2008. Anyway, tomorrow I am off to the gas place to buy 2 new hoses with Acme nuts. Propane is too expensive around here to allow it to leak out even just a little bit. If I can't find the hoses locally, Amazon.com carries
several models
at fair prices.
The local RV dealer, Burton Campers, had the propane hoses we needed. I made sure to get the kind without the swivels since that is what was leaking on the old ones. I dabbed a little TFE Paste on the threads that go into the regulator then hooked up the new hoses. I was pleased to find out that there was no leakage whatsoever and no more propane odor. Ahhh, money saved sure smells nice.
We had a wild storm come through last night! Temps went up to about 70°F around midnight, the wind was blowing very hard and the rain came down in buckets. I was worried about what we would find the next morning but we were blessed, no damage to anything. We did have a few small limbs laying about but that was about it. Today the sun is shining, it's about 61°F and a little breezy. The low tonight will be 28°F so we'll be snuggling for sure!
---
This is the last month we get to spend anything on the camper unless a repair is needed. We decided that whatever we thought we would need to have while full-timing would have to be purchased by December 31, 2009. From January 1st, 2010 until we pull out of the driveway for the last time, every spare dime will go into savings. This will be our emergency fund while we are on the road.
The only exception to this is that we will buy 2 new 6v golf cart batteries in the spring and put 4 new tires on the truck when the current ones wear out. The money has already been set aside for this so technically it is being paid for before our end-of-year deadline. The few final things we have to get are 2 outdoor recliners from Cabelas (already ordered), an Oxygenics shower head and a water cutoff valve for it, a sewing machine for Cynthia and an Olympian Wave 3 heater.
We have lived without using credit cards for years so the process is nothing new to us. We use our debit card for online purchases and we use it locally so we don't have to keep much cash on hand. Being debt free is the only way we're able to do what we're doing. I saw a news article on Yahoo today about other people going to "cash only" living, you can read about it
here
. Let me know if that link goes bad.
---
Oh my! Is it that time already? Jerry went down to the local Jack's for breakfast this morning, he ordered the "deluxe" breakfast and a small drink... something he has ordered before. But this time is was a little cheaper than usual. After inspecting the receipt, he discovered why.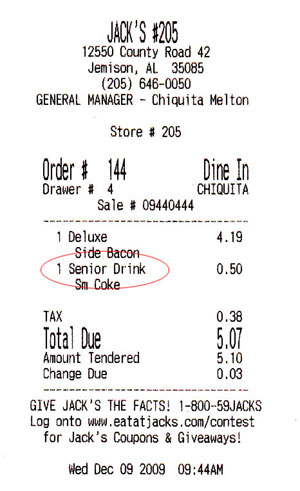 We decided against the Wave 3 heater since they are expensive to buy, they seem to require very expensive repairs and you have to ship the heater off to get the work done. We also decided not to get a sewing machine and the Oxygenics shower head now as we may not need them. That is something we can get at anytime if we decide it is warranted.
We did get the 2 chaise loungers from Cabela's and we really like them. Very comfortable recliners for $40 each is a good deal in our opinion. We had picked up a Big Buddy heater for the camper to save on propane costs in the winter time (instead of the Wave 3). It's a great heater with 3 heat settings and it really works. But that's the problem, it works too well. Even on the lowest setting, it roasts us inside the camper. We need something smaller.

It seems that even a 4000 BTU ceramic brick heater is too much for a 19' camper so we started searching for a heater a little less powerful. Unfortunately, we couldn't find one that worked on the camper's low pressure gas system that was reasonable in price. We went with a
Coleman ProCat Perfect Temp Catalytic Heater
. Constructed with 3,000 BTU output, this catalytic heater with platinum technology provides flameless heat. We'll add an
Extend-A-Stay
kit so we can fuel the new heater directly from the propane tanks since it won't work on the low pressure lines that are past the regulator. This way we won't have to deal with the cost or hassle of 1 lb. propane canisters.
Happy Birthday Dad!
Our 2010 Trailer Life Directory arrived today! We were very excited to get it as it is our first one to own. We promptly sat down and looked all through it picking out some of the places we'd like to go. We even took the time to apply all the state tabs! Doesn't take much to entertain us, does it? LOL
It is Christmas Eve! Second only to Easter, Christmas is our favorite holiday as we view it as a birthday celebration. We hope that you and yours have all that you need and some of what you want. Have a very Merry Christmas!
Today is our wedding anniversary! I woke Cynthia up at midnight last night to tell her Happy Anniversary. She said "that was sweet" then started snoring again.
We added a countdown script that tells when we will begin full-timing. We will leave the house at 8:00 AM on May 31st, 2010. The counter is on the home page just below the picture. Can you tell we are excited?
The weather is really cold this week, lows are in the 20s. That may not be as cold as where you are but for us, it's really cold. It sure makes us burn through propane a lot faster. Luckily we have the new
3000 BTU catalytic heater
that sips the propane, unlike the furnace that flat out chugs it. The weatherman said we might get some snow, I hope not. Here's a shot of the camper in March 2009 after our "big" snow storm.
We added a chat box in the right column, you can type your name and comment there and it will be posted in the little window. If we or anyone else is online, they will see it posted right away. We'll see if it turns out to be useful or not...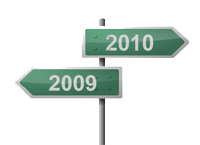 Last entry of 2009! That whooshing sound you heard was 2009 flying by. 150 more days until we become full-timers...
We've been adding content to the library as quickly as we can. The link to it is in the menu on the right and you might want to check there fairly often. We tend to add to it more quickly when it is too cold to go outside, like now!
RV Blog Archives
2017
JAN
,
FEB
,
MAR
Please visit
TabernacleFarm.com
2016
JAN
,
FEB
,
MAR
,
APR
,
MAY
,
JUN
,
JUL
,
AUG
,
SEP
,
OCT
,
NOV
,
DEC
2015
JUL
,
AUG
,
SEP
,
OCT
,
NOV
,
DEC
2014 We did our massive 22 state and 15 national park
road trip
.
2013 We dealt with Jerry's wreck and thyroid cancer treatment.
2012
JAN
,
FEB
,
MAR
,
APR
We stopped full-timing in April 2012.
2011
JAN
,
FEB
,
MAR
,
APR
,
MAY
,
JUN
,
JUL
,
AUG
,
SEP
,
OCT
,
NOV
,
DEC
2010
JAN
,
FEB
,
MAR
,
APR
,
MAY
,
JUN
,
JUL
,
AUG
,
SEP
,
OCT
,
NOV
,
DEC
2009
JAN
,
FEB
,
MAR
,
APR
,
MAY
,
JUN
,
JUL
,
AUG
,
SEP
,
OCT
,
NOV
,
DEC
2008
The Beginning
New comments have been disabled due to spammers.