Preparing to go Full Time RVing - The Beginning
We've been thinking about living full time in an RV and we decided that we're going to go for it. Sound crazy? Not to us, we think it'll be a great adventure and lots of fun. What better way to meet new people to talk to? Right now we don't have an RV but we'll see what we can do to change that. In the mean time, we'll go through all the stuff we have collected over our lifetime. We'll sort stuff into 3 areas... "gotta keep", "might keep" and "won't keep". Sounds simple enough, doesn't it?
Next we'll be placing ads in the free local want ads paper as well as on Craigslist. We'll have a big yard sale in the spring of next year. Any extra money goes into savings!
We started our search for the RV we want. We can't afford anything fancy and we do not want anything too large. I've read stories of people not being able to camp places because their RV was just too big! Or they got someplace they couldn't turn around! Yikes! We've narrowed our choice down to one model for the travel trailer. It's a whopping 19ft long and has the bare necessities we need to live in it full time. It is the Keystone Passport 195RB.
This model is fully self-contained meaning it has a full bathroom with sink, shower and toilet. The kitchen consists of a 3-burner stove top and small oven, a microwave and a sink. The bed is a queen size with access on both sides so we don't have to crawl over one another if we have to get up in the night. Another nice feature is the grab bar near the door which will help me get into it much easier.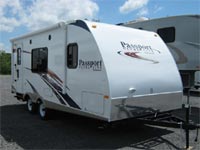 We visited an RV dealer today to see the Passport 195RB. The unit is much better than we anticipated for its size. Although 19ft sounds small, the unit actually has all the comforts of home, a really small home. The unit comes from the factory with everything we need except for extra batteries and a solar panel to keep the batteries charged when we are boondocking. We will have these items added as soon as we can after the trailer is purchased.
Ugh! We found out that our current vehicle (1999 Jeep Cherokee) will not safely tow the travel trailer. It would be right at the Jeep's towing capacity and could be unsafe under certain road conditions. We are now looking into purchasing a used Ford F150 truck to pull the camper. As a minimum, the vehicle needs to have the 5.4L V8 engine, automatic transmission, factory towing package and an H9 or (preferably) B6 rear axle code. Anybody got one for sale?
Woot! Somebody had one for sale! We just purchased a used 2001 Ford F150 4x4 SuperCrew Lariat to use as our tow vehicle. We were able to get it for $6,500.00 and the only down side is that it has 150,000 miles on it, but it is mechanically sound. From what I have found, the F150 should be good for 250-300K miles before needing a major overhaul. It will take us a long time to put that many miles on it.
I took it to the Ford dealer to have them service everything: engine oil, transmission and a few other things I can't do myself. I will change the fuel filter, get new shocks for it, change the differential fluid, etc. Gotta make sure it is in tip-top shape before we hit the road for good. The next step is the travel trailer.
RV Blog Archives
2017
JAN
,
FEB
,
MAR
Please visit
TabernacleFarm.com
2016
JAN
,
FEB
,
MAR
,
APR
,
MAY
,
JUN
,
JUL
,
AUG
,
SEP
,
OCT
,
NOV
,
DEC
2015
JUL
,
AUG
,
SEP
,
OCT
,
NOV
,
DEC
2014 We did our massive 22 state and 15 national park
road trip
.
2013 We dealt with Jerry's wreck and thyroid cancer treatment.
2012
JAN
,
FEB
,
MAR
,
APR
We stopped full-timing in April 2012.
2011
JAN
,
FEB
,
MAR
,
APR
,
MAY
,
JUN
,
JUL
,
AUG
,
SEP
,
OCT
,
NOV
,
DEC
2010
JAN
,
FEB
,
MAR
,
APR
,
MAY
,
JUN
,
JUL
,
AUG
,
SEP
,
OCT
,
NOV
,
DEC
2009
JAN
,
FEB
,
MAR
,
APR
,
MAY
,
JUN
,
JUL
,
AUG
,
SEP
,
OCT
,
NOV
,
DEC
2008
The Beginning
New comments have been disabled due to spammers.