The RV Road Trip Blog - March 2010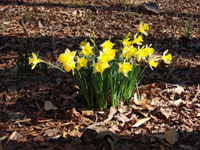 Yay, a new month has started! March is generally the month where we start seeing daytime highs in the 70s, we're really looking forward to that. Unfortunately, rain is scheduled for tonight and tomorrow but after that the forecast looks pretty good. We still have some minor things to do to the camper and we'd like to go ahead and get them done. Here's a shot of the jonquils that are blooming in our front yard. Aren't they pretty?
A great big THANK YOU to those who shop through our Amazon store and click our Google ads. I know the manufacturers of the things we use and review appreciate it. During the month of February, not only did we sell a whole lot of camping related gear, books, razors, ointments, etc... we sold 4 of the
Vornado fans
we just reviewed! The little bit we earn from this helps pay for our site and we really appreciate it.
The house is a mess as we are in the final stages of sorting out what goes to who. A pile to go on Craigslist, a pile for charity, a pile for the kids and a pile for the final yard sale. What's left after the yard sale will be donated to Hannah Home or the Jimmie Hale Mission. If it is something nobody would want besides us, it'll be in the trip to local landfill. Our son is ready for us to be gone. He turns 18 in a month and feels he is ready to be on his own. He'll be by himself from June 1st to Aug 12th... he'll move into the dorms at the University of Alabama then. He'll be fine because he is at that age where he still knows everything. :)
We weren't very fond of the ShoutMix chat box we had on the right hand side. It was slow to load and if you didn't want it to be annoying you had to pay a fee to use it. Well, as you all know we are on a budget around here so we decided to try something else. Like Blogger and Wordpress, we wanted a comment box that would allow our visitors to comment on any page they wanted. This is no simple task to say the least, but we set out to accomplish it nonetheless. And today the fruits of our labors are presented for your enjoyment. :)
We think we found and fixed all the bugs in the comment script. Sure was fun getting it to work in IE8. If you come across an error, please let us know so we can fix it! Feel free to use the comment boxes located at the bottom of most pages on this site. We love hearing from all of our visitors and this will make it easier for everyone!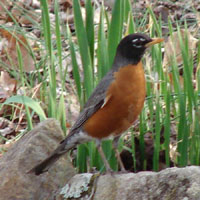 This weekend we will dewinterize the camper! The robins showed up in full force and that is the surest sign that winter is over. Cynthia wants to hold off until we go full-time before camping again but I don't think I can wait that long. 87 days is a long time to not go camping! Oh, in case you were wondering, the basic steps to winterizing and dewinterizing an RV can be found in the RVer's Library on
this page
.
We had wanted to trade our truck for a diesel but have since decided against it. It isn't really necessary for us since our camper is only 4700 pounds loaded down, plus the maintenance costs on diesels are higher and it is not quite as easy to find fuel. We're content to stick with our 5.4L F150 as there isn't a thing wrong with it and it has been a great truck. Plus we have gotten used to all the amenities it has - LOL. We know that as the miles accrue we'll eventually need to replace the motor but that's OK, we'll just get a crate engine and drop it in there if an when it is needed. Dang, is it May 31st yet?
Hooray, the camper has been dewinterized! I filled up the fresh water tank and then flushed out all the lines until no more antifreeze was visible. I also fired up the water heater to make sure it would cycle like it should and it did. Now that rascal has never worked on electricity so I'll be trouble shooting that very soon. I already tried a new element and that wasn't it, so the next thing to try is a new reset switch/thermostat that controls the electric side. I sure wish the water heater was more accessible but you just can't get to anything unless you pull it out... which I am trying not to do!
Cynthia wiped down the inside of the camper to remove the light layer of dust that had accumulated. Next she'll be wiping down the thick layer of pollen that will accumulate - LOL. Anyway, now to figure out when we can go on our first camping trip of 2010! Maybe we can go around Spring Break...
Oh mercy, did it rain last night! I mean it came down in barrels, not buckets. The runoff has cut paths through everything, roads are flooded and everything is soaked. Here's a pic of the water runoff just out from the steps. Good thing we are in a nice high and dry location. We were going to try to go camping somewhere during spring break but the weather doesn't look like it will cooperate. It will be warm but too much rain is in the forecast. We'd rather wait until it is nice and sunny.
I decided that I would no longer put off trying to figure out why our water heater would only work on gas, not electric. It has been this way since we bought the camper. I bought a new element as that is usually the culprit, but it wasn't... so now I have a spare. I put a voltmeter on the element and the thermostat and got nothing. I went inside and put the meter on the breaker and I had juice there. Next I disconnected the power and removed the cover from the junction box on the water heater itself. Mercy, it was very difficult to get to this let alone be able to see in it. Luckily I have a set of 90° screwdrivers so I was able to get the cover off. I propped my trusty little LED light so it would shine on the box then I reached in with my fingers and pulled the wires out so I could see them.
They were a twisted, melted mess! It seems there was a short and everything melted together... the wires, the wire nuts and the electrical tape that was wrapped around it. We are the second owner so it could have been the first owner who did this, but it could also have come from the factory that way. Oh well, we're not interested in laying blame, we're just glad we found the problem.
I cut off the hardened melted gob and stripped the wires so fresh copper was showing. Before connecting it back, I decided to test it with the voltmeter. I reconnected the shore power then tested the wire that came from the converter - I had juice. I turned off the breaker labeled "water heater" and tested the wires again. I still had juice! A little checking and it turn outs someone wired the fridge to the water heater breaker and vice versa. I fixed that then tested the wires again and all was good.
Using wire nuts, I reconnected the water heater wires. I made sure the little switch on the water heater that is outside was on, then I flipped the breaker to see what would happen. I heard the water heater circuit click and nothing more. I waited several minutes then felt the wires to see if they were getting warm (thinking maybe the short could have been in more than one place). Nope, wires are still cool. I went outside and put the voltmeter across the element and I had juice. Ditto for the thermostat. After about 15 minutes I checked the water from the faucet and it came out hot. Yippee! Now the water heater works on gas and electric like it should.
I started the task of resealing all the exterior lights and doors on the camper. I just didn't like the looks of the original sealant so I figured I'd go ahead and redo them. I finished one side of the camper and will do the remaining sides another day. It is supposed to rain tomorrow and I need to give the new sealant time to cure.
I also replaced the main circuit board in our converter. We had the Elixir ELX-45 converter and it behaved erratically so I figured it would be best to change it before it stranded us. We ordered a WFCO 45 amp main board from Best Converters and it was essentially a plug-n-play swap. The new board gives us 3 stage charging whereas the old one was single stage. That's it for now, I reckon...
We changed the image in the header at the top of each page to one that better reflects our happy-go-camping attitude. The one of us just standing there grinning like possums was kinda boring. Y'all like the new one? We're going to have custom decals made with this image to go on the sides of the camper. Even if no one else does, we thinks it is a neat idea. :)
RV Blog Archives
2017
JAN
,
FEB
,
MAR
Please visit
TabernacleFarm.com
2016
JAN
,
FEB
,
MAR
,
APR
,
MAY
,
JUN
,
JUL
,
AUG
,
SEP
,
OCT
,
NOV
,
DEC
2015
JUL
,
AUG
,
SEP
,
OCT
,
NOV
,
DEC
2014 We did our massive 22 state and 15 national park
road trip
.
2013 We dealt with Jerry's wreck and thyroid cancer treatment.
2012
JAN
,
FEB
,
MAR
,
APR
We stopped full-timing in April 2012.
2011
JAN
,
FEB
,
MAR
,
APR
,
MAY
,
JUN
,
JUL
,
AUG
,
SEP
,
OCT
,
NOV
,
DEC
2010
JAN
,
FEB
,
MAR
,
APR
,
MAY
,
JUN
,
JUL
,
AUG
,
SEP
,
OCT
,
NOV
,
DEC
2009
JAN
,
FEB
,
MAR
,
APR
,
MAY
,
JUN
,
JUL
,
AUG
,
SEP
,
OCT
,
NOV
,
DEC
2008
The Beginning
New comments have been disabled due to spammers.