The RV Road Trip Fulltimer's Blog for May 2011
Welcome to May! This month we'll celebrate Cinco de Mayo, Cynthia's birthday, Mother's Day and of course... Memorial Day! I'm thinking Cinco de Mayo will be much more popular down here in South Texas than it was back home in Alabama. Cynthia's birthday is on the 7th so y'all be sure to send her a Happy Birthday message. I'm not allowed to say how old she is, you ladies know how that goes. :)
The other day I was doing my best to check my eyelids for holes so Cynthia grabbed the camera. Below is a shot of me keeping 2 chairs from blowing away in the RGV breeze. Doing my part, ya know.
I added more pictures to the Mission Bell RV Resort folder and the Scootering South Texas folder in the gallery, just scroll to the end of those pages to see them. And since this is the start of a new month, last month's expense summary has been updated. The expense summary will give you an idea of how little it actually costs to live full-time in a travel trailer. You can view it in the RVer's Library, a link is in the menu to your right.
CJ is back to his old self, running and jumping and prancing around like he is king of the dog world. He got so bad at one point that we thought we would have to put him to sleep but we got him on Amoxicillin and within a few days he was much better. He's been on it about a week now and he is doing great! We'll keep him on it for a full 30 days to make sure whatever was causing his troubles is cleared out. He still doesn't realize that the little spoonful of canned dog food we give him twice a day is his daily dose. He thinks it is just a treat!
Happy Birthday Cynthia!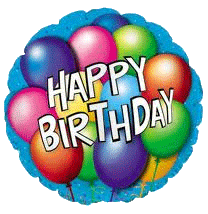 Anybody can buy a birthday card at the store that has some prepared birthday wish on it, but that's not for me. No card ever made could show how much I love my wife and what she means to me. No card ever made could express the excitement I feel every morning when I see her, and no card could ever say Happy Birthday to her the way I say it when I hold her in my arms. I love you, Cynthia... and Happy Birthday!
Sorry for the lapse in updates the last few days, we made a run up to Houston and haven't had a chance to get online much. The reason for the trip was to pick up our "new to us" Class C motor home. No April Fool's joke this time! We traded our camper to another individual for a 2004 Gulfstream Conquest Ultra Limited Edition 6236 24' Class C motor home. Everything is a mess inside right now as we hastily moved everything from our travel trailer into this unit then headed back to the RGV. Once we get a little more organized, we'll get some pictures posted and update the site info about the RV. We're excited, it is exactly what we have been looking for!
Getting things organized is only fun once, after that it becomes a chore. We're making good progress and soon Cynthia will allow me to take pictures of the interior. I washed the outside just enough to get the bulk of the dirt off. Next, I will wash all the fiberglass with "Awesome" cleaner to get the black streaks off then a nice coat of wax after that.
I got the TV mounted on a swing arm so we can watch TV now using the antenna. The RV wasn't wired for satellite so I will have to do that myself. We decided to sleep in the cab-over bed (we call it the attic) and we put a nice memory foam mattress up there. I picked up a 3 step kitchen ladder to use to get up and down since I don't do regular ladders very well at all. Well, back to work on the camper, will post more soon and pictures are forthcoming!
Yesterday we bought a 6' x 12' enclosed trailer to carry the scooter and the wheelchair in. We'll go pick it up this morning. We can also keep the tools and other camper extras in there since the RV itself has very little storage space. If we don't forget, we'll try to take a picture of it when we get it home. It is overcast today so not sure how the pic will turn out anyway.
We'll be changing spots here in the park, moving from 147 to 183. It has a shade tree on the west side so from about 3pm on we'll have good shade. Hopefully, that will keep the A/C from running non-stop from 7am to 10pm. It always cycles on and off throughout the night when set at 75°.
A little clarity on what we did with our old truck and camper. We traded the camper even up for the Class C and sold the truck. We'll use the scooter to run errands, get groceries and sightsee. For now we only have the one scooter but it will carry both of us. We do plan to get another for Cynthia, just not quite as big as mine.
---
OK, we got the enclosed trailer and it sitting behind us in our new site, Lot 183. I will be able to get some pictures of the rig tomorrow and have them online for your viewing pleasure. But tonight, I am tired. Gonna take as long of a shower as the water heater will let me then I am going to bed!
The wait is over! I finally got around to taking a few outside shots of the new RV. One is shown here, the rest are available on the "Rig Description" page (see link in the menu to the right). It was very overcast today so the pictures aren't very bright. That's OK because it helps hide the black streaks I have yet to clean off - LOL. I have 2 bottles of "Awesome" ready to go, though.
We attended church here in the park today, which is what we usually do. Afterwards, we had a nice lunch and sat outside enjoying the cool weather. After a little rest, I installed a pair of 6v GC2 batteries in the motor home replacing the dual purpose Walmart battery that was in there. I have a long list of things to do to the camper to make it just like we want it, but I have plenty of time to get it all done. It is nice to cross something off the list.
Almost forgot, I made a video of our trip to Palo Alto National Historical Park near Brownsville, TX. It's 2 minutes long and LeAnn Rhymes will sing for you while you watch it. :) It is available in the Video Gallery, the link is in the menu on the right.
Well, I have 1/2 of the camper exterior cleaned properly. No more black streaks on the slide side or the front! I still have the back and the awning side to do, luckily the back already looks good so it won't be a lot of scrubbing. I might as well share the full list of things I need to do so you'll know what I have to look forward to. Here goes:
Check the seal around the entry door
Replace the tail lights with LEDs
Replace Dicor sealant around fixtures on the roof
Clean engine battery terminals
Check front end alignment
Prep roof edges for Eternabond application
Install the new main awning
Install EMS (Surge Protector and more...)
Add bracing under tub bench
Install lower shower head holder
Adjust entry door latch
Strip off RV dealer decal (I really hate those)
Now here is the list of mods, upgrades and or changes we want to do but aren't in a real hurry to get done:
Chicago Cutlery Knife Magnet
Oxygenics Shower Head
Door Cross Bar
Black Tank Rinser
RainKap
Medicine Cabinet
Cyclone Vent Covers
Refrigerator Screens
Water Filter
Wheel Covers
Spare Tire Cover
States Visited Map
Backup Camera
Replace the slide topper
Anyone wanna help? :)
It's a good thing I wanted to add some additional bracing under the tub. When I peered in there through the little access panel, I noticed that water was seeping past the caulking around the back of the tub. I removed the entire panel from the side of the tub and saw that it had not leaked very much, most likely from lack of use. The previous owners rarely used the camper and almost always went to the bath house when they did go camping.
I added the additional bracing under the bench section of the tub and also added 2 additional braces on the side. The existing framing on the sides was pitiful, barely enough to support the weight of the tub much less the weight of a person. But now it is better than ever and a fresh caulking solved the seepage issue. I'll let it all sit until tomorrow before using it, even thought he caulk says it is shower ready in 3 hours. Better safe than sorry.
I got to mark one more thing off my to-do list, the Progressive Industries 30A Electrical Management System is now installed and operational. So far that is 6 out of 18 tasks completed. According to the display on the EMS, I am getting 117v from the shore power and I am drawing 19A with the A/C running on low and both laptops charging.
Here are a couple of pictures of it mounted. The first is the unit itself, it is mounted in a storage compartment above the fresh water tank. I wanted it to be accessible from an access door so this is where I mounted it. It gets hot so I used washers as spacers to keep the unit off the wall and also put a double layer of aluminum foil behind it to reflect the heat away. The second shot is the remote display that is mounted in the kitchen.
We'll be breaking camp tonight to go to Home Depot and the grocery store. This is a sacrifice we are willing to make to not have to deal with towing a long, long trailer anymore. This normally would only be an issue for us in the winter because we travel so much the rest of the year. We just happen to be sitting in one spot for this summer so we can build our savings back up.
We had taken some pictures of the Rio Grande Valley State Veterans Cemetery and forgot to post them online, but today they are up and available in the Picture Gallery. We stumbled across the cemetery by accident while out riding, it is in an out-of-the-way location. Here is a
link
to the official web site of the cemetery if you'd like to know more about it.
I installed a towel bar in the bathroom today, there wasn't one before. The bathroom is small so there isn't room for two towels bars, one of us will still have to hang theirs over the shower curtain rod. We considered adding a medicine cabinet as well but they are so thick that it wouldn't be feasible. Oh well, we'll just make do with what space we have in there.
We had a very relaxing day yesterday, we needed a break from all we have been doing around the park and with the new camper. After church we just lazily sat around enjoying the beautiful day. Now that it is Monday, it is back to fixing what needs to be fixed, modding what we want to mod and so on. I ordered a Chicago Cutlery
Magnetic Knife Storage Strip
for the kitchen. We had one before but left it in the old camper because it was screwed into the wall. And an absolute necessity, was another
Oxygenics Shower Head
! Those things are wonderful. And lastly, I ordered a
Spill Proof Dog Bowl
for CJ. That way we won't have to worry about it as we drive down the road.
The backup camera we are looking at is the 7" TFT LCD Color Rear View
Backup Camera System
with Audio from Amazon. It seems to be reasonably priced and has gotten some very good user reviews. It allows us the option to add side view cameras later if we decide to do so. As short as our camper is, they probably won't be necessary.
Below is a shot of Jerry in the floor of the RV. CJ decided that he needed to lay there as well so here they are. The camera had the flash turned off so sorry about the dark picture. You can click this image to see a little larger version.
Oh yeah, almost forgot... we made reservations for Yellowstone National Park at Fishing Bridge Campground for the last week of June 2012! We're going to Yellowstone!
I got up this morning and while it was still under 85°, I put a strip of Eternabond across the front seam of the RV roof. The Dicor lap sealant that was put on at the factory was looking bad and the potential was there for a leak. Hopefully, tomorrow I can get the rear seam done. After that will be the task of re-caulking all the edges of the cab overhang and the windows.
I placed the order today for the RainKap. This is a product that inserts into your roof edge trim and creates a little overhang so water from the roof will not be able to run down the sides of the RV causing black streaks. I had installed this on our first RV and it worked very well. It should arrive in about a week or so and I will be sure to post before and after pictures. When I get back on the roof for the remaining Eternabond application, I will snap some shots of that as well.
My great grandpa was a veteran, my grandpa was a veteran, my dad was a veteran and I am a veteran. JFK once said ""Ask not what your country can do for you, ask what you can do for your country". My how times have changed. Think how great this nation would still be if people cared about each other instead of themselves. Cynthia and I salute all veterans and thank them for their service and their bravery.
RV Blog Archives
2017
JAN
,
FEB
,
MAR
Please visit
TabernacleFarm.com
2016
JAN
,
FEB
,
MAR
,
APR
,
MAY
,
JUN
,
JUL
,
AUG
,
SEP
,
OCT
,
NOV
,
DEC
2015
JUL
,
AUG
,
SEP
,
OCT
,
NOV
,
DEC
2014 We did our massive 22 state and 15 national park
road trip
.
2013 We dealt with Jerry's wreck and thyroid cancer treatment.
2012
JAN
,
FEB
,
MAR
,
APR
We stopped full-timing in April 2012.
2011
JAN
,
FEB
,
MAR
,
APR
,
MAY
,
JUN
,
JUL
,
AUG
,
SEP
,
OCT
,
NOV
,
DEC
2010
JAN
,
FEB
,
MAR
,
APR
,
MAY
,
JUN
,
JUL
,
AUG
,
SEP
,
OCT
,
NOV
,
DEC
2009
JAN
,
FEB
,
MAR
,
APR
,
MAY
,
JUN
,
JUL
,
AUG
,
SEP
,
OCT
,
NOV
,
DEC
2008
The Beginning
New comments have been disabled due to spammers.