The RV Road Trip Blog - May 2009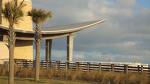 Do you remember who the spontaneous one is? Yep, Jerry. We decided to take a spur of the moment trip to Big Lagoon State Park in Pensacola, Florida... however, when we got to the park it was full! We called the night before and they had 22 sites available, but when we arrived about 11AM, the park was booked solid. Sooooo, we trekked on over to Gulf State Park in Gulf Shores, Alabama. It was only about 18 miles away. Good thing we had an
RV Park directory
on hand!
Although Gulf State Park was clean, it sure was boring. There were a lot of campers but everyone seemed to stick to their site, only waving if we waved first. We know now to make reservations if we want to go to Big Lagoon. We only took a handful of pictures as this turned out to be an overnight trip.
Somebody
planned a surprise birthday party for Cynthia and didn't tell either of us so we weren't there! You can view of all of our pictures for Gulf State Park by
clicking here
.
Cynthia is back to normal after her surgery. She did very well and we want to thank everyone for their prayers. Now we'll be able to go camping again - and scooter riding now that spring is in full swing!
As you can see, I have been working on the web site a little. I've added more information about our camper, tow vehicle, etc. I'll be adding even more as the days go by. You'll also notice the Google ads and links to RV related items at Amazon. For every click or purchase you make, we get a little bit in return from them. Hopefully this can be enough to cover the hosting costs of this site at least. We do all the design, graphics and coding ourselves so that saves us a ton right there.
What would be nice is a sponsor - LOL. Imagine their logo on our camper every where we go... talk about direct advertising. Oh well, wishful thinking, I guess. Anyway, the sun is out and those sticks in the yard aren't going to pick themselves up...
We bought a new queen size 8" memory foam mattress last night from Wal-mart for $269.00 plus tax. We researched the different ones that online retailers carried and we also visited quite a few local mattress stores. Local stores wanted upwards of $1500 for a similar mattress and the only difference we could determine was the outer cover for the foam itself. The very expensive Tempur-Pedic mattress was soft to touch with your hand but felt no different when you laid down on it.

We took the new mattress out of the box and let it expand. It opened to it's full 8" thickness and 60x80 dimensions in about 15 minutes. The box said it could take up to 48 hours. It does have that "new memory foam" odor so we are letting it air out according to the included instructions. We slept on it last night and oh my goodness, what an amazing difference over a quality inner spring mattress! We bought this for the camper but will leave it inside until we go full-time.
Heads up! We will be at Tannehill State Park May 29th, 30th and 31st. If you are in the area and would like to stop by for a visit, just look for our truck and camper. We have yet to see another Gazelle camper like ours so we should be easy to find. If we are not at the camp site, we're probably out riding our scooters. Zoom, zoom!
RV Blog Archives
2017
JAN
,
FEB
,
MAR
Please visit
TabernacleFarm.com
2016
JAN
,
FEB
,
MAR
,
APR
,
MAY
,
JUN
,
JUL
,
AUG
,
SEP
,
OCT
,
NOV
,
DEC
2015
JUL
,
AUG
,
SEP
,
OCT
,
NOV
,
DEC
2014 We did our massive 22 state and 15 national park
road trip
.
2013 We dealt with Jerry's wreck and thyroid cancer treatment.
2012
JAN
,
FEB
,
MAR
,
APR
We stopped full-timing in April 2012.
2011
JAN
,
FEB
,
MAR
,
APR
,
MAY
,
JUN
,
JUL
,
AUG
,
SEP
,
OCT
,
NOV
,
DEC
2010
JAN
,
FEB
,
MAR
,
APR
,
MAY
,
JUN
,
JUL
,
AUG
,
SEP
,
OCT
,
NOV
,
DEC
2009
JAN
,
FEB
,
MAR
,
APR
,
MAY
,
JUN
,
JUL
,
AUG
,
SEP
,
OCT
,
NOV
,
DEC
2008
The Beginning
New comments have been disabled due to spammers.