The RV Road Trip Fulltimer's Blog for September 2011
We got another puppy! CJ was bored and putting on weight due to inactivity so we decided to get him a playmate. We've been watching the ads on
Craigslist
looking for a miniature schnauzer that was mostly chihuahua and didn't cost an awning and a generator (arm and a leg for you non-RV types). We spotted an ad for a 4 month old puppy for $150. We called and found out that the owners bought the puppy 2 months ago but then decided they wanted a tea cup sized dog. We met them in the Walmart parking lot which is about 5 miles away.
They had the puppy out running around on his leash and he was really cute even though he had not yet been given a schnauzer hair cut. We looked him over and decided we liked him and offered them $117, all the cash we had on hand. They accepted and we took the puppy, placed him in a reusable Walmart bag with his head sticking out and made the 5 mile scooter ride back to the motorhome.
We haven't named him yet and we are open to suggestions (post yours in the comments below). The puppy with no name and CJ get along great, playing together until they are too tired to move. I gave him his first haircut and bathed him; I also dewormed him. I will take him by the vet tomorrow for a once over. Anyway, here's a picture of him... and don't forget to share your suggestions for a name below.
Thanks to everyone who submitted name suggestions for the new puppy here, on Facebook and on Google Plus. We received a lot of great suggestions and the winning name is.... Scooter! Cynthia wouldn't let me call him Weezer, after an AKC registered Jack Russell Terrier we had to give up when we first started full-timing. We took Scooter to the vet yesterday for his 2nd set of shots and his rabies vaccination. He didn't like that but he is no worse for wear today and back to being a rowdy puppy. Speaking of rowdy, that was Weezer's first name... Rowdy Weezer Winegard. Scooter isn't registered so he will be just plain ol' Scooter.
Our first camper came with a grill that attached to the wall outside and plugged into the RV propane via a quick disconnect. It worked well but was a pain to clean and expensive to replace. When we traded that camper in, it went with it. Our 2nd RV didn't come with a grill so we looked at our options. Most RV grills that use propane run about $200 or more so we decided not to go that route. We trotted down to our local Walmart and paid a whopping $20 for a portable propane grill with a piezo igniter built in. Even if this grill only lasts 1 year, it will take 10 years to equal the value of a typical RV grill.
We've had this little grill for over a year now and it is still going. The only issue with it is that the little tabs that hold the flame guard in place have rusted away. We're hoping to limp it along until we leave Texas in April and then just get a new one. However, the price is now $25 but the model has been improved. Yesterday, we cooked some steaks on it using a little Montreal seasoning and a dash of garlic salt. Yum yum! Here's a picture of supper last night along with the little 1 gallon LP tank we use with the grill.
We prefer the portable tank since we can take the grill away from the camper if we want to. There are times we don't want to cook under the awning. You can use
this hose
to be able to use a bigger LP tank, otherwise you are stuck using those expensive little 1 pound LP bottles.
The temperatures at night have finally started dipping below 70°! The days are quite comfortable with highs in the low 90s and very low humidity. You'd think that Fall was on the way this month. Actually, it is. Some calenders show it arriving on the 21st while others have it on the 23rd. I believe it arrives on the 23rd, the same day I (Jerry) arrived.
Yep, my birthday is the 23rd of this month and I will be a whopping 48 years old. That sure sounds old, especially since I have never been 48 before. :)
We took the pups out for their daily golf cart ride yesterday but this time we remembered to take a picture. This was taken yesterday evening around dusk. When we get off the cart to lock up the office building, we tell the dogs to stay on the cart. They are eagerly waiting for us to get back to the cart.
Earlier today, they both got a much needed haircut. Since most places charge upwards of $40 or more, we bought a set of good clippers for $30 and we do it ourselves (well, Jerry does it). Here's a shot of Scooter and one of Scooter and CJ after their haircuts and baths. Neither one of them is very fond of the bath part, but they tolerate it.
Scooter is doing really well on his training. He walks beside us, sits and stays on command and
generally
goes outside to pee. He does have an accident every now and then but he promises he is working on that. CJ told him about a place called "the pound" and ever since, Scooter is really trying hard to do right. He hasn't quite got a grip on "come here" yet, but he is learning. He's a great playmate for CJ and a joy to us... we are really glad we got him.
A few other winter Texans are starting to trickle in and also some of the seasonal workampers. It won't be long before I'll have to slow the golf cart down to the posted 10 MPH speed limit and actually stop at the stop signs in the park. In our park alone, we have about 6 RVers coming in by the 1st and a bunch more by the end of October. Of course, starting in November they stream in like flies to stink. It'll be nice to have more folks around to visit with and the activities will be in full swing as well.
We enjoyed our summer here but we'll not do it again unless we absolutely have to. We love the winters here but come April, it is time to hit the road! We'll be very actively seeking out locations and altitudes where the daily highs don't go higher than about 85°. We'll be asking all the other snowbirds where the cool places are during the summer. If you know of any, please leave us a comment below!
We added a little "share" bar at the top of each page, so if you enjoy the content of any particular page, please click the Facebook "Like" button, the Google +1 button and if you have a Twitter account, you can tweet the page link, too! The clicks only apply to the page you are on, not the site as a whole so please click on each page you enjoy. Thanks!
I took a ride yesterday to try to find a certain cemetery but never did find it. The map said it was there but it wasn't. However, the trip was not a total loss... I did find a sunbathing rat.
Another trip to Harlingen VA Medical Facility today. I got 3 botox shots in my left calf in an effort to relax the muscles so my left foot won't always point in and down. We'll see how that goes. On the way home I decided to stop for lunch at Wendy's. I saw on the news that they changed how they made their burgers so I figured now would be a good time to check it out.
The changes, from what I could tell, was a buttered and toasted bun, new pickles, red onions instead of white, no more mustard by default and a thicker beef patty. Oh, and a higher price. The new burger was very tasty and the number 1 combo with cheese was $5.39 plus tax (a total of $5.83 here is the RGV). The price included cheese and I am not sure if they reduce the price if you don't want cheese.
We tend to not eat out very often unless it is out of necessity or we have a craving for something we can't cook. A hamburger is something we can easily make at home on the grill and it is always better than anything a fast food place can produce. However, we cannot make fries that compare with the ones some of the places make (5 Guys, Wallbangers, etc). Plopping down nearly $6 for one person to eat is not really a good value for us but it also doesn't break the bank. There's always the dollar menu... :)
I think I have a craving for a Frosty now...
Well, I am 48 now. The 23rd came and went without much fuss. The folks in the park got together and brought cupcakes and ice cream. There's another guy in the park that has the same birthday as me so it was a double "party". I had 1 cupcake and 2 scoops of ice cream, that's about my limit of sweets for the month.
When we first started thinking about full-timing, we owned a 1999 Jeep Cherokee 4x4. We knew it wouldn't tow a trailer so we sold it to my son and bought another vehicle. Fast forward about 2 years and we are buying that same Jeep back from my son. We will be selling the scooter and using the Jeep as a toad. Cynthia will be flying to Dallas in about a week to where my son and the Jeep are. She'll then drive it the 535 miles back to the RGV.
I'll get it set up to be towed behind the motorhome, adding a base plate and tow bar. Thankfully, the cost for those items is just under $300. The auxiliary braking system will be another $500! I already bought a wheelchair lift that mounts to the Class III hitch on the back of the Jeep. It is motorized so it will pick the chair up and down for me. Then I'll be all set!
We know a lot of folks out there either have tablet computers or are wanting one. The iPad is OK but is very restrictive and very expensive. There are lots of Android based tablets that are very good but they too are expensive. Well, today Amazon announced their new Android tablet called the Kindle Fire. And it is only $199! It will ship on November 15th but they are taking pre-orders due to the expected demand in the millions.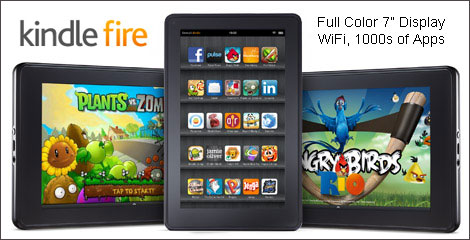 This is a really cool tablet and worth every penny of the price, probably more. I could go on and on about it but it is probably best if you read it straight from the Amazon site.
Click here
to go see the new Amazon Kindle Fire.
We'll be making some changes to the web site starting today. The goal is to make it more appealing and easier to navigate. Don't worry, it won't change too much... certainly nothing like Facebook has sprung on everybody lately. We'll expand the width a little bit to 999 pixels to allow room for a left hand menu, we'll be swapping in a new background image and changing the banner at the top a little. You'll be able to view the site just fine if your screen resolution is at least 1024 pixels wide. This resolution is perfect for most tablets and any modern desktop or laptop computer as well. Personally, our laptops are set to 1600 pixels wide so we get to see the full background image. We hope everyone will enjoy the new changes and if you do, please share the pages you like using the Facebook, Google+ and Twitter share buttons found near the top of each page. :)
RV Blog Archives
2017
JAN
,
FEB
,
MAR
Please visit
TabernacleFarm.com
2016
JAN
,
FEB
,
MAR
,
APR
,
MAY
,
JUN
,
JUL
,
AUG
,
SEP
,
OCT
,
NOV
,
DEC
2015
JUL
,
AUG
,
SEP
,
OCT
,
NOV
,
DEC
2014 We did our massive 22 state and 15 national park
road trip
.
2013 We dealt with Jerry's wreck and thyroid cancer treatment.
2012
JAN
,
FEB
,
MAR
,
APR
We stopped full-timing in April 2012.
2011
JAN
,
FEB
,
MAR
,
APR
,
MAY
,
JUN
,
JUL
,
AUG
,
SEP
,
OCT
,
NOV
,
DEC
2010
JAN
,
FEB
,
MAR
,
APR
,
MAY
,
JUN
,
JUL
,
AUG
,
SEP
,
OCT
,
NOV
,
DEC
2009
JAN
,
FEB
,
MAR
,
APR
,
MAY
,
JUN
,
JUL
,
AUG
,
SEP
,
OCT
,
NOV
,
DEC
2008
The Beginning
New comments have been disabled due to spammers.