The RV Road Trip Blog - August 2009
We've made plans to visit Wind Creek State Park near Alexander City, Alabama. We'll arrive Friday August 7th and stay through Sunday August 9th. We're not sure what site we'll have as they don't take reservations. If you happen to be in the area, be sure to look for our Palomino Gazelle G210 or our scooters!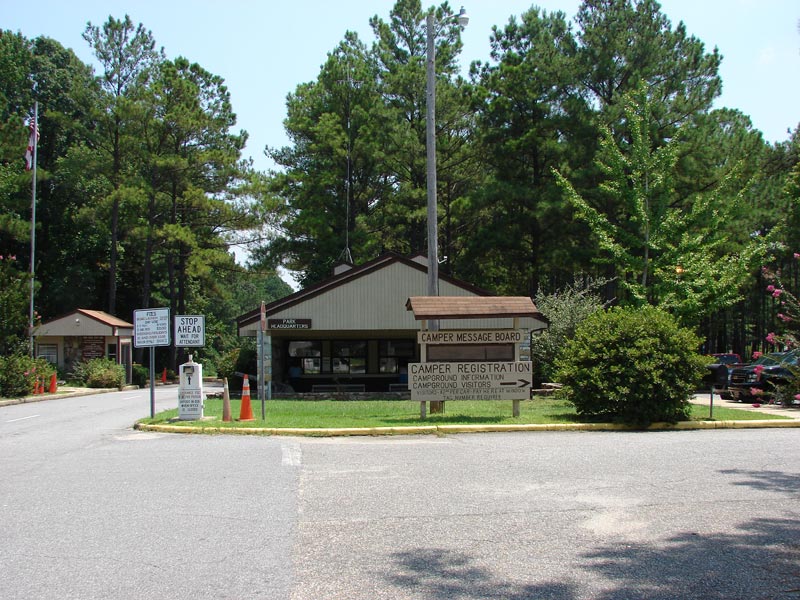 Whew, we're back from our 3 day trip to Wind Creek State Park! We had a great time, even got a visit from the grand daughters and their mom and dad. They came up for the day on Saturday and we all took the kids swimming. Jerry swam with the girls while everyone else enjoyed the shade.
Elvis visited the park Saturday night and put on a free show. This guy was actually pretty good and we enjoyed the show. He said he'll be back to the park over the Labor Day weekend, so if you're there you'll get to see him.
We rode our scooters all over the park and a few areas outside the park. We always get asked a million questions about the scooters since most people have never seen a Honda Ruckus before. It gives us an opportunity to talk to people and to make new friends. We also save a ton on gas as we can ride them all over and get 112 MPG rather than taking the truck which gets 12 MPG. You can read about our scooter adventures by
clicking here
.
We got to play bingo while we were there and Cynthia won a $5 gift certificate to the marina store. Cynthia spent it on Fireballs, Chewy Sweet-Tarts and a campfire starter. We also attended a "fellowship" service Sunday morning. It was really church but to avoid potential legal issues, they call it "fellowship".
We removed the giant decal from the front of our camper as it was starting to peel. We'd like a company with a good reputation to put their logo on there and give us a little compensation each month to advertise for them as we travel around. That'd be a great way for them to reach a very large, targeted audience.
We talked with several campers from other parts of the United States and they said they like to come to Alabama as we have the best parks. That's good news for Alabama and good news for us since we are Alabama residents. We're already thinking about where we want to go next, now to find that next great campground... Pictures of this trip can be seen
here
.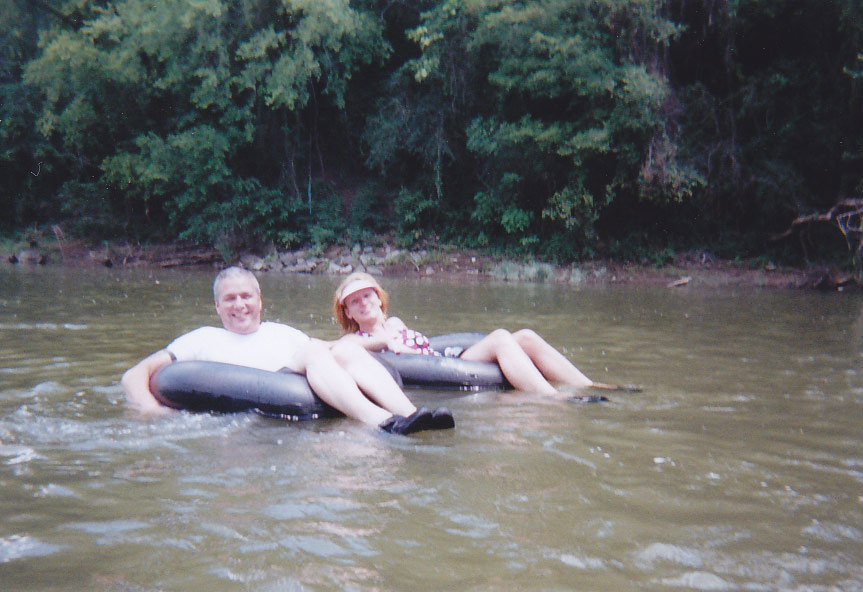 Cynthia and I went tubing down the Cahaba river today and it was a blast! We paid just $10 each to rent 2 tubes and be driven up to a drop off point north of Centreville, Alabama. We floated downstream experiencing calm open areas of water, fast running rapids, enormous boulders and amazing wildlife. The ride ended at the city park between the 2 bridges that cross the river.
The trip to the drop off point took about 8 minutes. The ride down the river to where the truck was took just over 2 hours. We brought along a bottle of water and a disposable waterproof camera, we ended up taking quite a few pictures. It was really a great time and would have been more fun if the water level was a little higher. Every now and then we'd hit our butts on underwater rocks - LOL.
We saw lots of fish jumping, large birds along the shores catching fish, beautiful flowers and trees, birds flying overhead, the mud nests of swallows under the overpasses... scenery you might not otherwise see unless you were on the river.
The tube rental place is located in Centreville about a mile north of the beginning of US 82 on the right. They have a big sign visible from the highway but you have to be looking for it or you'll miss it. It's called Adventure Shoals and you can call them at 205-316-1116.
To view the pictures of this trip,
click here
.
We had heard about geocaching (jee oh cash ing)... hunting for things that other people have hidden using a GPS... but never gave it much thought. I mean, when you've found one the rest are going to be pretty much the same, right? Wrong. As it turns out, this is pretty fun.
We went to
Geocaching.com
, learned as much as we could in one sitting then pulled up the list of geocaches within 20 miles of us. Big list! We did a little research and found out how to load waypoints into our Garmin Nuvi 205 GPS. We looked into using the VZ Navigator on our cell phone but quickly abandoned that idea due to battery life issues. So now with fresh POIs (Points of Interest) loaded into the GPS, we set out on the hunt.
Hmmm, turns out this isn't as simple as it sounds. The caches are not in plain site so you really have to look for them. We rode the scooters out to Minooka Park where 2 are listed. One was supposed to be near the gate but not in the park. The Garmin Nuvi 205 just was not up to the task... so we didn't find it. I think the "driving" GPS units are content to get you within 500 feet of your target and they go silent. A handheld model like the
Geomate Jr.
is great for beginners and the
Garmin GPSMAP 60CSx
is perfect for the more proficient GPS user.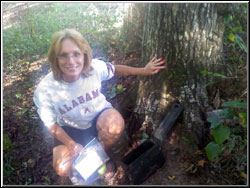 So now we head off to Jemison park to find the one there. We cheated a little and read the hint from the listing at Geocaching.com. We walked around a bit and WOOHOO we found it! You'd have thought we won the lottery - LOL. We opened up the container, signed the log book and looked at the items stored in the container. We found a baseball, a Star Wars action figure and a few other odds and ends. We closed it back up and returned it to its original hiding place.
Now we're excited to find another one, but that will have to be another day and with a better GPS. For more info on Geocaching and suggestions on GPS devices, books and more,
click here
.
I placed the order for the solar power system for the camper today. 2 Kyocera KD135GX-LPU 135 watt solar panels, 2 RV roof mounts for the panels, 1 Blue Sky SB3024iL MPPT Charge Controller and some of the wiring... $1423.33! But this will allow us to generate our own power whenever there is light, no need to hunt a place to plug in every time we stop for the night. Once it all arrives and I begin the installation, I'll update the blog and post some pictures.
Next will be the purchase of two 6v golf cart batteries to store the power generated by the solar panels. These batteries will replace the puny 12v battery that came with the camper. I'll buy these next spring right before we leave so they'll be fresh!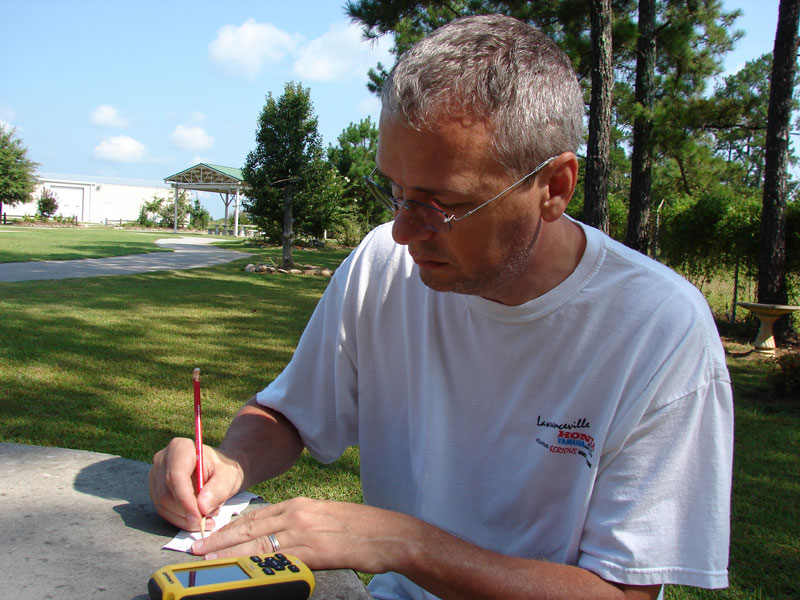 We had a big day yesterday out Geocaching and Waymarking, we found 14 geocaches and 7 waymarks! I think Cynthia was trying to wear me out! But the joke is on her, I survived the day. ;)
We returned the Garmin Venture HC GPS we had bought and replaced it with a
Lowrance Endura Out & Back
GPS. The new GPS is made for hiking and geocaching and it has a touchscreen. For just a little more money it is a significantly better GPS than the Garmin. Now it is not for road navigation and the guy who reviewed it on Amazon thought it was so he rated it low. That's like buying an apple and complaining that it doesn't taste like an orange.
It started raining while we were in church and it looks like it is going to rain all day, so no geocaching for us. Guess we'll take this lovely opportunity to go to the grocery store. That's always fun...
RV Blog Archives
2017
JAN
,
FEB
,
MAR
Please visit
TabernacleFarm.com
2016
JAN
,
FEB
,
MAR
,
APR
,
MAY
,
JUN
,
JUL
,
AUG
,
SEP
,
OCT
,
NOV
,
DEC
2015
JUL
,
AUG
,
SEP
,
OCT
,
NOV
,
DEC
2014 We did our massive 22 state and 15 national park
road trip
.
2013 We dealt with Jerry's wreck and thyroid cancer treatment.
2012
JAN
,
FEB
,
MAR
,
APR
We stopped full-timing in April 2012.
2011
JAN
,
FEB
,
MAR
,
APR
,
MAY
,
JUN
,
JUL
,
AUG
,
SEP
,
OCT
,
NOV
,
DEC
2010
JAN
,
FEB
,
MAR
,
APR
,
MAY
,
JUN
,
JUL
,
AUG
,
SEP
,
OCT
,
NOV
,
DEC
2009
JAN
,
FEB
,
MAR
,
APR
,
MAY
,
JUN
,
JUL
,
AUG
,
SEP
,
OCT
,
NOV
,
DEC
2008
The Beginning
New comments have been disabled due to spammers.