The RV Road Trip Fulltimer's Blog for June 2011
I reckon everyone survived Memorial Day Weekend. Like every major holiday weekend, we want to be settled in well before the holiday hits. We've been settled in here since last November - LOL. We hope everyone had a great weekend and was able to get in some serious camping and family time. We had a big cookout with other folks here in the park and enjoyed hamburgers, hot dogs with all the fixins as well as a plethora of side dishes. Yum yum!
I suppose other parts of the country are starting to heat up this time of year. It has been very hot down here in South Texas for quite a while. A relative of ours in Alabama posted a picture on Facebook showing the thermometer in her car at 101°. That's a little more than it usually is here. Even at upper 90s, our A/C sure is getting a work out. Oh well, the grass sure is green where it hits the ground!
There is an up side and a down side to not having the truck anymore. The up side is we save a small fortune in fuel savings and other incidental costs because we don't just "hop in the truck and go". The down side is when we are sitting in the same spot for an extended period of time, we have to go get groceries on the scooter (or break camp and take the motor home). Taking the scooter means multiple trips if we run out of too many things at once, but it sure puts and end to impulse buys because anything extra won't fit in the under seat storage!
Google came out with a way to rate your favorite web pages, it is called "+1". We added the little icons to the menu on the right of each page, so if you like the page you are on, you can click the little +1 icon and it will help us in search engine results. The +1 is only for the page you are on, not the whole site. So if you are on a different page and you like it as well, click that one, too.
Yesterday, one of our orders from Amazon arrived. I was the new Oxygenics shower head, a knife magnet and CJ's new spill proof water bowl. I immediately installed the shower head and oh how we enjoyed our shower last night. Whoever invented that thing should get a Nobel prize! Just now, UPS dropped off a package containing the RainKap. That will take me a day or so to install and I will post some pics later.
Cynthia had to go to the doctor last week about a weird pain she was having on her right side. The doctor immediately ordered a CT scan and it found a spot on her liver and a spot on her diaphragm. Cynthia is a breast cancer survivor so, of course, this made us nervous. The CT came back "inconclusive" so an MRI was performed this morning. We're waiting to hear back the results from that. Keep us in your prayers.
The MRI results are in, and they want us to come in to discuss the results and for "counseling". Little do they know we have the greatest Counselor of all, Jesus Christ. The test showed that the mass on the liver is not harmless and they aren't sure about the spot on the diaphragm. When we go Tuesday to the doctor, they will let us know what tests must be done now for a definitive diagnosis. Keep the prayers coming!
I started installing the RainKap today. I did the awning side of the camper since it would be the hardest to do, simply because I had to cut 2 pieces... one for each side of the awning. You can't really put it in the channel over the awning because when you roll up the awning, it would hit the RainKap. Not all campers are like this, though. Here are a couple of shots from ground level. Notice how it gives a little overhang so water will run off and fall to the ground instead of running down the sides.
Today is also laundry day and wash the dog day. After CJ gets his bath, we'll put his Frontline medicine on him. We always do that near the first of each month... the medicine that is, he gets a bath every week. Cynthia loves her clothes line that mounts to the rear bumper. With the heat and the breeze down here, they get dry very quickly. And they smell so fresh!
Yay! All the RainKap is now installed! I had to do it early in the mornings because it gets too hot by about 10 AM. But now both sides and the rear have a brand new RainKap installed. I need to order a roll of 2" x 50' Eternabond so I can seal the roof edges and overlap the RainKap a bit to provide a strong, leak proof barrier. I also finished caulking the cab over hang except for the running lights at the top. I still need to do the 3 middle ones, I could reach the outer ones from the ladder. I have to get it done this week because the weather report shows a 60% chance of rain next Thursday. Uh huh, sure. It hasn't rained since November so I don't have my hopes up.
After a little consistent prodding from Cynthia, I got the satellite wired and connected. Wouldn't you know it, when I turned on the TV that danged House Hunters show was still on! That's what was on when we last watched satellite TV over a month ago. They were doing the same thing, looking at 3 houses, arguing amongst themselves then picking one and buying it. How many times can you watch somebody do that?? Personally, I don't think the show is real, it's just actors following a script.
I was outside the camper taking some pictures of the beautiful clouds the other day and decided to take a self portrait. Here are both shots, there are more pictures in the picture gallery under Mission Bell RV Resort.
And we both thank you all so much for the prayers!!
At least the weather around here is consistent. 100° every day and 78° every night. Well, almost. It will only be 99° two days this coming week. Of course, that also means no rain in the forecast. Rain... oh yes, I remember rain. I last saw it in October 2010 on our way down to the RGV. That's also the last time I saw a rainbow... until today! We were sitting on the couch in the RV and this is what we saw on the ceiling of the RV.
It was the sun reflecting off of a CD laying on the dinette table.
Here is a shot of the weather forecast for the week. When it says "windy" that means the wind will be in excess of 25mph, anything less than that and they don't even bother mentioning it. It is now hurricane season so maybe that will bring some rain and relief from the heat. I don't want a hurricane to come through but a little rain would be nice. If a hurricane does set its sights on the RGV, this little RV with 2 humans and a dog will be headed away from it.
Be sure to check out the RVer's Library in the menu to the upper right. There's lots of good info for you in there and we'll be adding even more. The menu inside the library expands if you click the little plus signs, so be sure not to miss anything.
Not having the truck anymore sure is saving us some money. Our gas bill for the month will be very little compared to previous months. We do plan to take the motorhome and fill it up this weekend, when we parked it last we only had 1/4 of tank in it. We didn't fill it then because gas was .50¢ a gallon more than it is now. So now at current prices, it will cost about $130 to top it off.
So far this month we have spent a whopping $12 on fuel for the scooter. At 70 MPG, a gallon and a half goes a long way. Multiple runs to the grocery store and the occasional scenic ride doesn't use too much gas. I usually ride early in the morning because by about 10 o'clock is is just too hot to ride. From 10 am to about 6 pm I make good use of the air conditioner. After dinner, we usually sit outside because the temps are very comfortable and the breeze/wind feels really good. It is not really any hotter here during the day than it was in Alabama, but in Alabama there is no breeze so you bake. Here, there is always at least a 15+ MPH wind and it really makes a difference.
We keep the trees on our lot watered so they stay nice and full, providing the motorhome with a significant amount of shade throughout the day. The birds love the sprinkler and they gather to catch the bugs and take baths. They are fun to watch in the evenings. Well, time for bed... see ya'll later! :)
The other day I was wondering where the mission that Mission, Texas is named after was located. I looked online for the name of it, pictures of the mission and where it was located. I rode out to Our Lady of Guadalupe Catholic Church and snapped a few pictures of it. Due to its location, I could not get a full shot of it from the front. Sorry for the glare on the picture but I wasn't aware of it until I got back home and downloaded the images from the phone. There are 2 more images in the gallery under Scootering South Texas and a few more have been added to the Mission Bell RV Resort album.
I installed a
Chicago Cutlery Knife Magnet
in the kitchen for Cynthia. She has some very good knives and in order to keep the safe and sharp, they need to be properly stored. The slotted holder that was built into the RV is useless and it will also dull the knives. She had a knife magnet in our previous camper and was very happy to have one installed in this one.
I also completed the installation of a
Black Tank Rinser
. When draining the black tank (the poop tank), not everything always flows out when you open the drain valve. This new device will allow me to spray water into the tank and rinse out any remaining contents. As hot as it is around here, if you don't rinse out the tank, the stuff in there will dry out and smell worse that it already did.
I bought some
Bar Keeper's Friend
Cleanser to wash the camper with. It is very well reviewed and recommended by other RVers so I decided to give it a try. I will try to start cleaning the motorhome in sections and see how it does. I will do my best to take some before and after pictures.
Happy Father's Day, Dad!
I look back over the years and I am amazed at just how great my dad is and has been. Today's blog entry is dedicated to my Dad.
He gave me my first pony ride in 1963.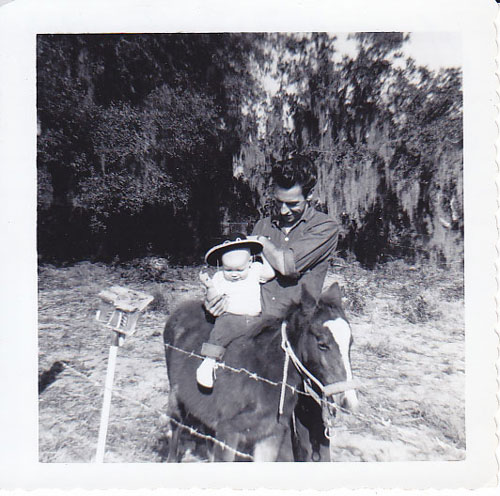 He bought me the world's greatest Christmas presents!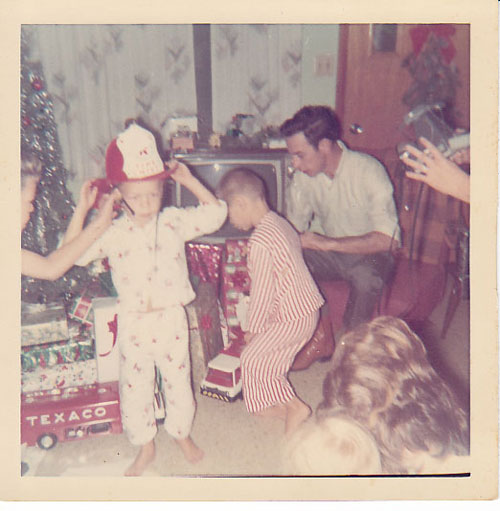 He made sure I had the best birthdays!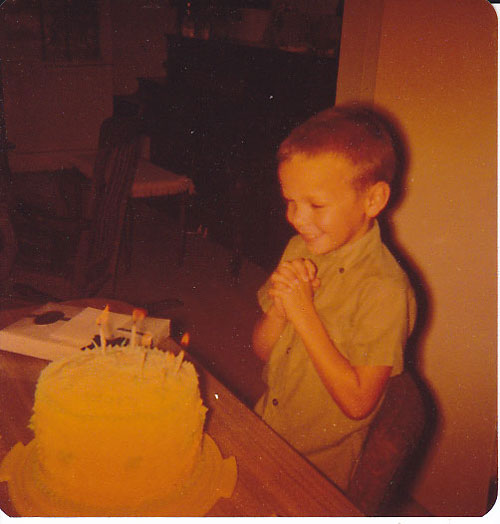 He made sure my brother and I had the coolest bicycles.
Yes, James Dean aspired to be like my dad! Dad took me motorcycle riding!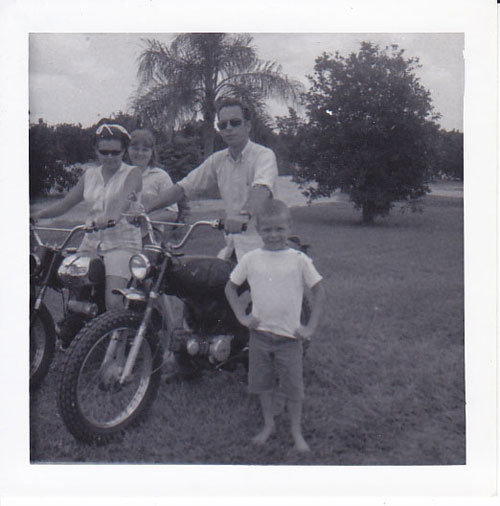 And even though I outgrew my Dad, I will never be able to fill his shoes.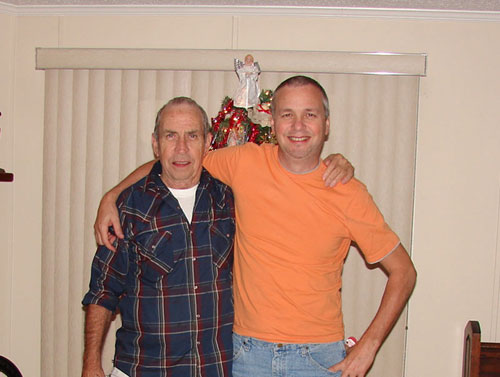 Dad helped me in so many ways, at times when I needed his help and times when I didn't think I needed it. I have always looked up to my Dad, admired my Dad and respected my Dad. I know he made mistakes along the way, but I can't seem to recall any of them. All I remember is the fantastic childhood he gave me, the love he has given me since day 1 and the support he has given me all through the years.
Some people casually toss out a phrase on Father's day, but I choose my words carefully. I truly have the greatest Dad of all. I love you, Dad!
For everyone else out there, my Dad reads the blog and even though I called him today, I wanted to do this for him.
It rained! It actually rained in Mission, Texas! This is the first rain we have had since September of 2010. Can you say "dry spell"? I won't have to water the trees or the grass this week, but I bet the park maintenance men are already grumbling about having to mow the new grass that will come up - LOL. Here are a few pics of the rain as it came in...
More pictures were added to the Mission Bell RV Resort gallery and the Rio Grande Valley gallery. Check them out!
Texas Oncology in McAllen sucks. No really, they do. Their primary concern is money, not the patient. They called Cynthia's insurance to verify it and Blue Cross told them there might be a delay in payment while they check for a pre-existing condition (there is not one). Texas Oncology called Cynthia and said you have to get your PET scan done somewhere else, we are not willing to wait on payment from Blue Cross.
The Texas Oncology web site boldly claims "This is how Texans fight cancer". They fight it by turning their backs to the patient? Texas ought to be ashamed. Their phone number is 888-864-ICAN as in "I can send you away instead of treating you". As you can probably tell, I am very upset at Texas Oncology.
We got the PET scan scheduled for today at another hospital and we should have the results of it on the 30th.
It is supposed to rain for the rest of this week so I figured I better get a little riding in before it starts. I started off by heading to the
Roadside America
web site and looked up things in this area to see. Not a lot of listings in the immediate area but it turns out the World's Largest Killer Bee is in Hidalgo, only 20 minutes away. So off I go!
After a very nice ride down Business 83 to 23rd Street in McAllen, I turned south towards Hidalgo. I knew I had gone too far when I came up on the US/Mexico border crossing. I waved at the Border Patrol and made a left turn and headed into downtown Hidalgo. I made my way to City Hall where I knew the bee was located. I parked in the parking lot marked "Parking Only for Official Government Business". Hey, I think visiting the World's Largest Killer Bee falls into that category. I hopped off the scooter and walked over to the bee. Yep, it is big. Here's the picture I took with the phone and while I was there, I also checked in on Gowalla.
Lots of rain today from Tropical Storm Arlene. The storm is about 300 miles South of us but the rain bands are reaching the RGV. We got a few sprinkles last night but today will be the bulk of the rain we get. The radar is one big red and orange blob. That's OK, this area is way behind on rainfall. But with an all day rain means I will be inside the camper all day. Poor CJ does not like the rain. He runs out, does his business, and runs right back inside.
Cynthia's follow-up appointment with the oncologist is today at 2:15pm. A friend is giving us a ride since we can't really take the scooter in the rain. We're praying the tests all come back negative and we know the Lord can make that happen, if it is His will. We certainly do appreciate all the kind words and prayers that many of you have sent. It sure is nice to have such a large, extended RV family. :)
RV Blog Archives
2017
JAN
,
FEB
,
MAR
Please visit
TabernacleFarm.com
2016
JAN
,
FEB
,
MAR
,
APR
,
MAY
,
JUN
,
JUL
,
AUG
,
SEP
,
OCT
,
NOV
,
DEC
2015
JUL
,
AUG
,
SEP
,
OCT
,
NOV
,
DEC
2014 We did our massive 22 state and 15 national park
road trip
.
2013 We dealt with Jerry's wreck and thyroid cancer treatment.
2012
JAN
,
FEB
,
MAR
,
APR
We stopped full-timing in April 2012.
2011
JAN
,
FEB
,
MAR
,
APR
,
MAY
,
JUN
,
JUL
,
AUG
,
SEP
,
OCT
,
NOV
,
DEC
2010
JAN
,
FEB
,
MAR
,
APR
,
MAY
,
JUN
,
JUL
,
AUG
,
SEP
,
OCT
,
NOV
,
DEC
2009
JAN
,
FEB
,
MAR
,
APR
,
MAY
,
JUN
,
JUL
,
AUG
,
SEP
,
OCT
,
NOV
,
DEC
2008
The Beginning
New comments have been disabled due to spammers.