The RV Road Trip Blog - March 2009
Now we're really excited! We're about to go on our first camping trip in the new RV. The closest campground that isn't a privately owned park is Oak Mountain State Park. It's only about 35 minutes from where we live and it is a nice area. We've been there quite a few times, just not to the campground area. We called to check rates and availablity and everything went OK. This will just be an overnight trip so we can get a feel for it. Are you ready? We are!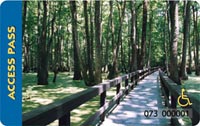 Yay! Here we are in the Oak Mountain State Park campground! I splurged and got full hookups so I could have a go at setting up everything. Easy as pie. I got a 15% discount here for being totally disabled, all I had to do was show my "America the Beautiful - National Parks and Federal Recreational Lands Pass -
Access Pass
- Free". This is a lifetime pass for US citizens or permanent residents with permanent disabilities. I guess you can say this is a benefit of being crippled.
It was perfect weather, highs in the upper 70s and a beautiful clear blue sky. The campground was packed! There were a few people in the Class A motor homes, dozens of travel trailers and 5th wheels and even more people camping in tents. I am too old to be sleeping on the ground anymore, and my poor old back can't take it.
We made a list of the things we forgot to bring, the most important being the remote for the TV (ha ha). We had our 4 year old grand daughter Gracie with us to make it an even more special trip. She absolutely loved it. There were kids of all ages everywhere, playing, laughing and having a great time. We took our metal detector to look for lost treasures and instantly we had a crowd of kids around us helping dig up whatever might be there. A few coins, fishing lures, fishing weights and trash...
We saw a family with 3 small kids who lived in a tiny 2 person tent. They had a very old 2 door car with a sign on it that said they were looking for a home and anything anyone could do would be appreciated. Of course, Cynthia and I thought about how blessed we are even though according to society's standards we are poor. We only brought enough supplies for one night and had nothing to offer them except the graham crackers, marshmallows and chocolate bars we had to make smores. You should have seen the faces of those kids when they saw what we brought for them. The young mom and dad were very appreciative.
We had a great time and met a lot of friendly people. We'll be heading to Tannehill State Park on March 17th and we intend to stay for 5 or 6 nights through the Trade Days event. You can view of all of our pictures for Oak Mountain State Park by
clicking here
.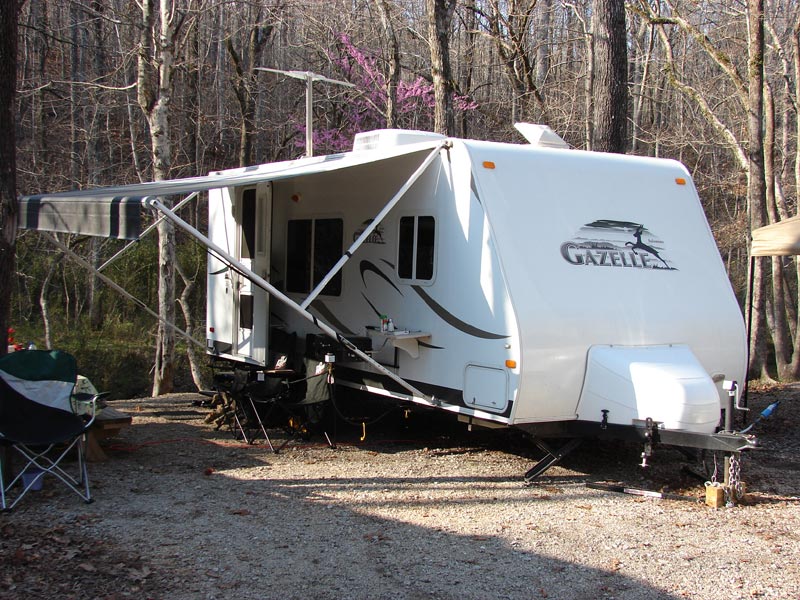 We just returned from a 7 day stay at Tannehill State Park near McCalla, Alabama. The combination of it being Spring Break and the weekend for Trade Days, the park was full! There were so many families, all out having a wonderful time enjoying the park itself as well as the camaraderie that campers share.
With so many children at the park, we decided to host a scavenger hunt. The kids really enjoyed hunting for the 40 different items listed on the game cards and the parents thanked us over and over for sponsoring the event. We also gave out lots of coloring sheets, word search and puzzle sheets. Several of the parents asked if we did this at every campground we visited. We try to because it gives us a great opportunity to give the children fun, safe activities to do as well as the opportunity to talk with the families.
Cynthia is scheduled for surgery in April. Expected recovery time is about 4 weeks so please keep her in your prayers. You can view of all of our pictures for Tannehill State Park by
clicking here
.

We're having a yard sale on Saturday, April 4th at Providence Baptist Church from 8am-3pm. We're selling the items we won't need anymore plus things that others have donated to us for the sale. So if you need some good stuff and would like to attend a big garage sale, come by and take a look. There will be plenty of "man stuff" like a lawn cart, music CDs, tools, porch rockers, etc. And of course, things like clothes, dishes and what-nots. You know you need more what-nots!
RV Blog Archives
2017
JAN
,
FEB
,
MAR
Please visit
TabernacleFarm.com
2016
JAN
,
FEB
,
MAR
,
APR
,
MAY
,
JUN
,
JUL
,
AUG
,
SEP
,
OCT
,
NOV
,
DEC
2015
JUL
,
AUG
,
SEP
,
OCT
,
NOV
,
DEC
2014 We did our massive 22 state and 15 national park
road trip
.
2013 We dealt with Jerry's wreck and thyroid cancer treatment.
2012
JAN
,
FEB
,
MAR
,
APR
We stopped full-timing in April 2012.
2011
JAN
,
FEB
,
MAR
,
APR
,
MAY
,
JUN
,
JUL
,
AUG
,
SEP
,
OCT
,
NOV
,
DEC
2010
JAN
,
FEB
,
MAR
,
APR
,
MAY
,
JUN
,
JUL
,
AUG
,
SEP
,
OCT
,
NOV
,
DEC
2009
JAN
,
FEB
,
MAR
,
APR
,
MAY
,
JUN
,
JUL
,
AUG
,
SEP
,
OCT
,
NOV
,
DEC
2008
The Beginning
New comments have been disabled due to spammers.