Grand Canyon National Park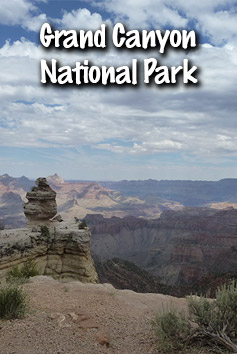 Our first big thing after the Hoover Dam was Grand Canyon National Park. This park is one of the most visited national parks so there was people everywhere. The constant buzz of tour helicopters, huge buses everywhere, lines at every bathroom... all that really takes the excitement out of visiting here. Anyway, we were here so we at least wanted to go have a look.
We made our way to the nearest overlook and there we took a few photos. There was so many people you were constantly bumping into folks and it was nigh impossible to get a decent picture, but we gave it our best shot. We then waited in line to pee, walked into one of the visitor centers then made our way back to the car. We headed east and stopped at several pullouts and this was more enjoyable than the hustle and bustle back at the main area. We continued on to Holbrook, Arizona where we had planned to spend the night in the roadside tee pees, but they were all booked up. We stayed nearby in a local motel and because the day had been so long, we were fast asleep after taking our showers.
We visited here in 07/2014.
New comments have been disabled due to spammers.